WELCOME TO THE CHILDREN'S MINNESOTA 2022 NURSING ANNUAL REPORT 
As health care professionals, we expect unique challenges that go beyond routine patient care. This has been especially true during the past three years and as we continue to emerge from a global pandemic, which has changed the way we do almost everything. However, one thing that hasn't changed at Children's Minnesota is how we strive to provide the best possible care for all kids, every day.
The Nursing Annual Report is such a source of pride for me. I'm honored to work with Children's Minnesota nursing professionals who show up daily with enormous talent, adaptability, and commitment to our patients and their families, and each other. This report reflects the best of our work from the previous year and serves as a reminder of why we chose this challenging and rewarding profession.
In 2022, we started the year with the omicron surge and ended with a history-making respiratory surge. Navigating through surges impacts everyone in our organization and in the community. Yet in this report you'll read amazing stories of our nurses' achievements, innovation and excellence that persevered despite the challenges.
We continued our work to advance equity and inclusion at Children's Minnesota, and our nursing team remains at the forefront of our efforts. Our expanding relationships with nearby schools of nursing is helping us improve the nursing pipeline for the future. The successful opening of our mental health units and specialty care clinics was due in large part to our nursing teams.
Our patient families depend on us to be the Kid Experts™ and provide exceptional care for their kids – highly specialized, compassionate, world-class care. Our nurses do this every day, and I couldn't be prouder to be a part of their team.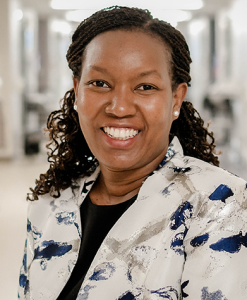 Thank you,
Caroline Njau, MBA, BSN, RN, NEA-BC
Chief Nursing Officer and Senior Vice President, Patient Care Services