Catching up with spina bifida patient, Declyn
We met Declyn in December 2019 when he was just 16 months old. When Sarah, Declyn's mom, was still pregnant with him, she found out that she would need to undergo fetal surgery at only 24 weeks in order to repair an opening in Declyn's spine. Now, Declyn is 3 years old and his smile lights up a room.
"Declyn is a super easy-going little boy, except when you take his favorite blanket away from him," Sarah said.
Declyn's spina bifida diagnosis
Sarah and Ken, Declyn's dad, were at their 20-week ultrasound when they were told they needed to meet with a maternal-fetal medicine specialist. They learned their baby had myelomeningocele (MMC), the most common and severe form of spina bifida. Spina bifida is a birth defect in which an area of the spinal column doesn't form properly, leaving an opening in the back. It can cause paralysis, bladder and bowel dysfunction and cognitive impairments.
Doctors referred Sarah and Ken to experts at the Midwest Fetal Care Center, a collaboration between Children's Minnesota and Allina Health, to explore an option that offered hope: fetal surgery. Once they found out they were candidates for the surgery, things moved quickly.
Declyn's fetal surgery
At 24 weeks, surgeons performed the fetal surgery, repairing the opening in Declyn's spine while he was still in the womb. The surgery was a success, and Sarah and Ken remained in Minneapolis for eight weeks of bedrest and weekly follow-up appointments. On December 6, 2017, Sarah gave birth to Declyn via a cesarean delivery, weighing just 3 pounds 4 ounces.
The results of the surgery were evident: Declyn did not need a shunt and the team was hopeful he would walk. He spent 26 days at Children's Minnesota, two weeks in the Neonatal Intensive Care Unit (NICU) and 2 weeks in the Infant Care Center (ICC) for monitoring before heading home to North Dakota.
Declyn started to use a posterior walker around 2 years old, helping him to move about and walk around. Declyn is continuing his physical and occupational therapy.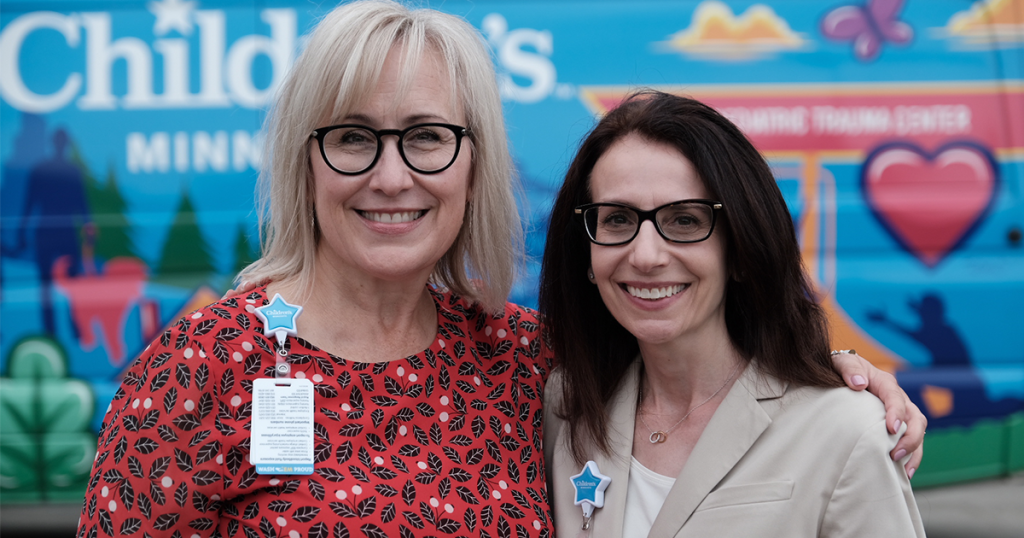 In addition, he also started hippotherapy, also known as equine therapy, and an electrical stimulation (e-stim) therapy specifically for kids with spina bifida. "He has been taking more independent steps since then. The combination of these two therapies have really improved his overall walking," said Sarah. "He has been working on using his arm crutches."
Declyn will be starting preschool in the fall. He met his teachers already and they are excited to have him in the classroom. He was able to get used to the playground and loves the slide!
Midwest Fetal Care Center annual reunion
While on bedrest for those eight weeks after surgery, Sarah was looking to connect with other parents who were going through something similar.
"I needed to find my own community of those who 'got me' and what I was going through, so I created this group," Sarah said. "It's been amazing to find other families so supportive of each other… I met three moms who had fetal surgery before me, and it helped me feel like everything was going to be OK."
After connecting through a Facebook group, some of the moms decided to meet at the 2018 Walk for Amazing event put on by Children's Minnesota.
They wanted to expand the support group and the idea of a spina bifida reunion was born. Moms who previously had fetal surgery were excited to help new moms about to embark on the same journey. So, in October 2018, they held their first reunion in St. Paul.
Midwest Fetal Care Center 4th annual reunion
In 2020, due to the COVID-19 pandemic, the reunion took place virtually. But, this year, families are excited to meet again in person! The 4th annual Midwest Fetal Care Center reunion is happening on August 14, 2021 from 12-3 p.m.
Alexandra Rothstein