Xaaladaha Hidda-socodka
Article Translations: (English) (Spanish) (Hmong)
Waa maxay xaaladda hidda-socodku?
Xaaladda hidda-socod waa jirro ay keento isbeddel ku yimaad hidda-wade. Waxa jira kumanyaal xaaladaha hidda-socodka, iyo kuwo cusub oo la ogaanayo wakhti kasta.
Jidhkeenu wuxu ka samaysan yahay kumanaan milyan oo unug. Unug kasta gudihiisa waxa ku jira tiro hidda-wadayaal ah. Hidda-waduhu waa jidhka "tilmaantiisa". Jirkeenu wuxuu akhriyaa hidda-wadaha oo uu u adeegsadaa tilmaanihiisa si uu u sameeyo maadada borotiinka ee aynu ka koobanahay. Tusaale ahaan, waxa jira hidda-wadayaal sida waxyaabaha midabka indhaha iyo dhererka.
Hidda-wadaha waa la dhaxlaa (waxa kuu soo gudbiyaa waalidkaa). Taas weeye sababta aad waalidkaa ugu eg tahay.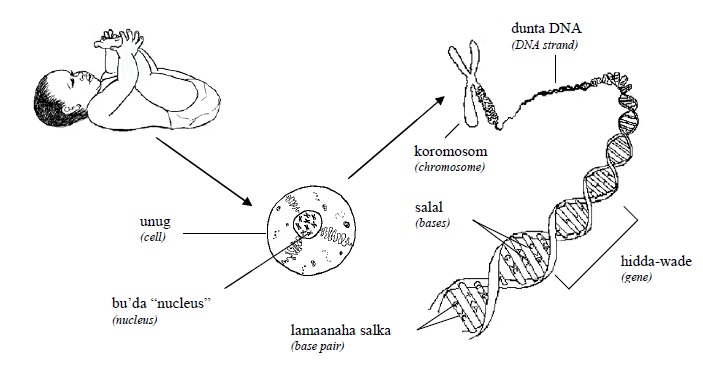 Qeexitaano
Salal: Aashitada bu'da (nucleic acids) ama kiimikada ku jirta DNA. Magacyada kiimikadu waa adenine (A), cytosine (C), guanine (G), iyo thymine (T).
Lamaanaysha salka: salalka iska soo hor jeeda ee dunta DNA. A waxay markasta ku lamaan tahay T, iyo C oo markasta ku lamaan G.
Unugyada: waxay dhisaan xubnaha jirka.
Koromosomis: waa xidhmooyin dhaadheer oo ah dunta DNA. Koromosomis waxa laga helaa iyaga oo lamaana bu'da unugga. Dadku waxay leeyihiin 23 lamaano ah oo koromosomis ah.
DNA (deoxyribonucleic acid): duno warwareegsan oo ah kiimikada uu ka samaysan yahay koromosom-ku.
Asal-wade: qaybta dunta DNA. Halka asalwade waa xadhig salal badan leh.
Bu'da: qaybta unugga ee uu ku jiro DNA.
Sidee hidda-waduhu uga soo gudbaa waalidka?
Hidda-wade kasta oo ku jira jidhkaagu wuxuu leeyahay laba nuqul. Marka dadku ilmo dhalaan, waxay gudbiyaan hal nuqul oo hiddawade kasta oo jidhkooda ku jira. Ilmuhu markaas wuxu wataa xirmo dhan oo hiddawadayaasha aabaha iyo xirmo dhan oo xagga hooyada.
Xaaladaha hidda-socodku ma waxay markasta ka yimaadaan waalidka?
Ma aha markasta. Xaaladaha hidda-wade ama hidda-wadayaal. Marmar isbedelkaas waxa laga dhaxlaa waalidka.
Marmar, isbedel ayaa ku imaan kara hiddawade. Isbedelo cusub ayaa waqti walba ku dhaca jidhkeena. Badanaa isbedelaasi waa yaryahay oo ma keenaan dhibaato waayo:
waxa laga yaabaa in aanay bedelin macnaha fariinta.
jidhku waxa laga yaabaa inuu u baahan yahay hal nuqul oo shaqaynaya si fariintu shaqada u qabto.
Marmar, isbedel dhab ah ayaa ku dhaca hiddawadaha oo aanay mar danbe fariintu macno u samaynayn jidhka. Markay taasi dhacdo, fariinta looma raaci karo si saxa oo waxay u horseedi kartaa dhibaatooyin.
Haddii uu isbedel dhab ah ku yimaado hiddawadaha unuga shahwadda (aabaha unugiisa galmada), ama unuga ukunta (hooyada unugeeda galmada), waxay u gudbi kartaa ilmaha. Markay taasi dhacdo, waalidku ma laha xaaladda hidda-socodka laakiin ilmaha ayaa qaba.
Wax laga samayn karaa ma jiraan waxa keenay ama lagaga hortagi isbedelka hidda-wadaha. Badanaa ma jirto si ay waalidku ku ogaan karaan in isbedel dhacay illaa ilmahoodu bilaabo inuu yeesho calaamadaha xaaladda jirta.
Ma jiraa baadhitaan lagu samayn karaa isbedelada hidda-wadaha?
Baadhitaan waa lagu samayn kara hiddasocodka, laakiin waa xaalado hidda-socod oo gaara oo qudha. Baadhitaanka badanaa meel shaybaadha ayaa lagu sameeya muunada dhiiga.
Baadhitaanka hidda-socodka waxa loo adeegsan karaa si loo xaqiijiyo ogaanshaha cudur. Hase ahaatee, haddii xataa baadhitaanka laga waayo isbedel, waxa laga yaabaa inuu qofku misana qabo xaalad hiddasocod. Weydii dhakhtarka ama la-taliyaha hidda-socodka si aad u hesho inta ay le'egtahay runta baadhitaanka hidda-socodku.
Su'aalo?
Xaashidani gaar kuma aha ilmahaaga, laakiin waxay bixinaysaa macluummad guud. Haddii aad wax su'aalo ah qabto, fadlan wac kilinigaaga.
This page is not specific to your child, but provides general information on the topic above. If you have any questions, please call your clinic. For more reading material about this and other health topics, please call or visit Children's Family Resource Center library, or visit www.childrensmn.org/educationmaterials.
© 2019 Children's Hospitals and Clinics of Minnesota