MARGASHADA (DA'DA 1 JIRKA IYO KA WEYN)
Article Translations: (English) (Spanish) (Hmong)
Sidee baan uga hortagi karaa margashada?
Margashadu waxay ku dhici kartaa qof kasta balse inta badan waa laga hortagi karaa. Cuntooyin badan iyo wax afka gala ayaa sabab u ah margashada carruurta iyo dadka waaweyn. Badanaa waxa ay dhacdo waa marka la laqo wax weyn, ama cunto aan la ruugin, sida hilibka. Siyaabaha looga hortagi karo margashada waa ka mid ah:
In si aad ah loo yaryareeyo cuntada la cunayo.
In si fiican loo ruugo cuntada.
Marka ay adag tahay cuntada oo aan la ruugi karin, waa in afka laga soo saaro. Waa in aan la laqin.
Ha u oggolaan in ay carruurtu ordaan, ciyaaraan, qoslaan, ama hadlaan markay wax cunayaan.
Waa inaan afka la gashan wax aan cunto ka ahayn.
Waa maxay calaamadaha margashada?
marka uu qof luqunta hoos u dhigo
naqas sharqamaya oo ah cod dheer
qufaca aan la maqli karin
marka uusan qofku hadli karin
midabkooda oo isu beddela guduud ilaa basali ilaa buluug
marka uusan qofku neefsan karin
Maxaa loo qaban karaa?
Weydii, "Ma wax baad ku margatay?", haddii uu qofku madaxiisa kuugu sheego haa, u sheeg in aad caawineyso. Sidaas ku samee ilaa ay qofka afkiisa ka soo baxaan wixii uu ku margaday oo uu naafsado, qufaco, hadlo, ama uu kuu jawaabi waayo.
Cadaadiska Caloosha (habka Heimlich):
Istaag ama ku jilba-jabso dhabarka qofka oo gacmahaaga dul saar qofka gacmihiisa.
Caloosha ku qabo gacantaada dhinaca suulka oo u duuban sidii feer (bartamaha) wax yar ka sarreeya xuddunta. Gacantaada kale dul saar gacanta feerka ah.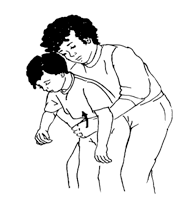 3. Ku cadaadi caloosha adiga oo si degdeg ah gudaha iyo kor ugu riixaya.
Haddii aad jawaab ka weydo
Qeyli, "Na Caawiya - soo garaac 911!"
Afka uga neefso CPR, oo u fur neefmareenka aad uga neefsaneyso, afka gudihiisa wax ka fiiri. Haddii aad aragto wax ku dhex jira, ka soo saar. Haddii aad waxba ku arki weydo, farahaaga ha ku riixin afka gudihiisa.
Ku samee CPR ilaa qofku ka jawaabo, ama ilaa ay yimaadaan shaqaalaha gargaarka.
Muhiim
Talooyinkan waa dulmarid la isku baro sida margashada loogula tacaalo ee gargaarka degdegga. Wax kasta halkan kuma dhammeystirna. Waxaa khasab ah in farsamada lagu barto boombale ama caag qof u eg iyadoo macallin joogo. Farsamada la raacayo laguma baran karo qof caadi ah.
Wakhtigii Habdhiskan Neefsashada 3/2023 ©Copyright
This page is not specific to your child, but provides general information on the topic above. If you have any questions, please call your clinic. For more reading material about this and other health topics, please call or visit Children's Minnesota Family Resource Center library, or visit www.childrensmn.org/educationmaterials.
© 2023 Children's Minnesota