Echocardiography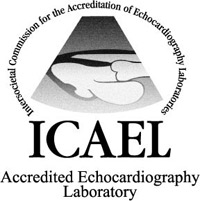 Children's is the first certified pediatric echocardiography program in the region. Additionally, its echocardiography laboratories in Minneapolis and St. Paul are the first in Minnesota to receive national accreditation in pediatric transthoracic echocardiography from the Intersocietal Commission for the Accreditation of Echocardiography Laboratories (ICAEL). Children's respiratory care practitioners and sonographers are solely dedicated to pediatrics and highly experienced in the unique cardiovascular problems of children.
Each year, the Children's team performs more than 10,000 echocardiograms on pediatric patients and more than 200 fetal echocardiograms. Interpretive services are provided on 500 digitally transmitted echocardiograms per year. Analyses typically can be provided within two hours. The Web-based AGFA Heartlab™ system allows the Children's team to review and analyze echocardiograms sent via the Web.
Major advances in echocardiography, including 3-D echocardiography and color Doppler tissue imaging, are available at Children's. Echocardiography is possible for infants weighing as little as 500 grams (under one pound).
For more information on these services, please call Children's Heart Clinic at 1-800-938-0301.