Cameron David Allen tribute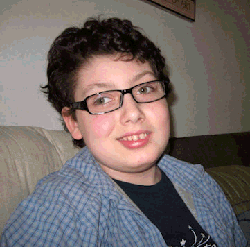 In loving memory of Cameron David Allen
Cameron struggled with brain cancer from his date of diagnosis, November 26, 2006 until his death at age 13 on September 14, 2008.
Cameron enjoyed being read to and had acute listening skills. He could tell you every detail about several stories being read to him at once. He enjoyed playing UNO, Legos, Clue and Wii.
I hope people remember Cameron for his contagious sense of humor and fighting spirit. Cameron never showed self-pity nor did he question why he was chosen to go out this way. Instead, he showed tremendous courage and grace and set a beautiful example by living life fully. Cameron was and still is an inspiration to those of us who had the honor of caring for him. He had this amazing spirit and sense of who he was and knew instinctively the example he was setting for other kids going through cancer treatment. His one wish for the world was that everyone be truly happy. He had a way of slowing people down and teaching us to live life in the moment. I'd like to think he accomplished that.
Cameron died peacefully on September 14th and I was honored to be by his side as he took his last breath. Although the pain of missing him is intense, I feel relieved that he no longer suffers and is no longer a prisoner of his failing body. I am extremely grateful to Krista, his hospice nurse, who so elegantly helped us through the most difficult time in our lives.
With love for my son,
Paula Allen (mama)