Tabitha Rose Markle tribute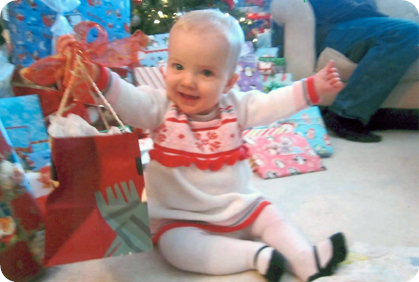 This is Tabitha's story:
Tabitha was born on April 25, 2012 at Ridgeview Medical Center in Waconia, MN. She was baptized on June 24, 2012 at St. Elizabeth Ann Seton Church in Hastings, MN with her cousins, Jacqueline and Gabriella. Tabitha's first month at home was spent sleeping a lot. Isabelle [her sister] loved spending time with Tabitha and gave lots of kisses.
During Tabitha's second month, Isabelle continued to show her affection. Tabitha continued to sleep a lot. She made her first visit to the Mall of America.
Tabitha had many new experiences in her third month. She was awake more. She played with toys on the play mat and found herself in the mirror. It was also during this month that we celebrated the Fourth of July and Daddy's birthday.
In Tabitha's fourth month of life, she found her fingers and rolled over. She loved to spend time with her sister. We celebrated Mommy and Isabelle's birthdays during this month.
Tabitha practiced rolling, holding toys and sitting during her fifth month. She was on the boat, played at Maple Maze and tried to hold a cup.
During her sixth month, she had fruits and veggies, played with toys, tried scooting and cheered on the Vikings.
We celebrated Thanksgiving and Halloween during Tabitha's seventh month. We visited Santa twice. We decorated the house for Christmas. Tabitha brushed her teeth. And, she showed much love to her sister.
During Tabitha's eighth month, Tabitha enjoyed the Christmas decorations, loved playing with her sister, jumped in the jumper and got even better at crawling.
In her ninth month, there were some really good memories. Tabitha was really good at crawling and playing. She tried to stand on her own. This month we celebrated Christmas.
On January 18th, 2013, a tragic accident happened when the family car broke through the ice on Lake Minnetonka. The entire family was transported to Ridgeview Medical Center. Tabitha went by helicopter to Children's Hospital in Minneapolis. There, the medical staff worked hard to revive Tabitha. On January 21, 2013, they decided the efforts were not working, discontinued life support and pronounced Tabitha dead. The funeral was on January 25, 2013 at St Peter's Church in Richfield, MN.
Twinkle, twinkle little star.