Brandon Patrick Elias tribute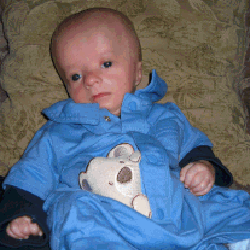 Brandon Patrick Elias was born on July 19, 2006. He weighed 4 pounds and 8 ounces and was 18 inches long. From the very beginning, we knew Brandon would change our lives forever. He was the most amazing baby we have ever held in our arms.
Brandon's life started out pretty crazy. He was born via C-section and had some troubles breathing but the doctors got that going right away. After the C-section, Brandon was rushed to the NICU for observation. When mom was out of recovery from her C-section, she was able to go see him but was not able to hold him until the next day.
The doctors were concerned from the beginning about Brandon's tone. He was not as responsive as most babies. As days passed, we worked on getting him to feed from a bottle. He was able to maintain some of his feeding, but was not able to finish a bottle.
On August 5th, 17 days after Brandon was born, we finally received a diagnosis for Brandon's condition. It was not a diagnosis the doctors had hoped to give us. We were told our son had a terminal illness and did not have much time. We met with the geneticist who let us know Brandon had a condition known as Zellweger Syndrome. The condition is a genetic condition that affects 1 in 50,000 to 200,000 babies. This means only one baby born each year in Minnesota has this syndrome.
All of this being said, we looked forward to taking Brandon home and enjoying our time with him. We celebrated his birth and were very proud parents. In the time Brandon was alive, he touched so many lives and we know he was here with us for a reason. He was the most amazing little boy.
Brandon died on October 2nd at 6:30 a.m. He was in our arms as he took his last breath. He was so beautiful and his time here on earth was much too short. Since we knew our son had a terminal illness, we thanked God for him every day. We are so truly blessed for the time we had with our son. We wish we had had more time, but we know we will get to see him again someday. The pain of him being gone is very strong but we also feel glad that he no longer suffers. We will always miss our Brandon.