Isabella Marie Poole tribute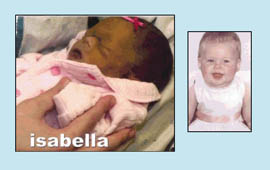 Now Mommy has a broken heart that people say in time will mend itself.
I guess in some strange way, I have a tiny, tiny, tiny bit of advantage than Mommy's who have had miscarriages. I got to feel Isabella's hand very lightly squeeze my hand on the day she was born. I will always have that, my baby girl.
I love you, sweet Angel.
Love,
Mommy
March 5,2010