Tribute for Phoenix Jade Lincoln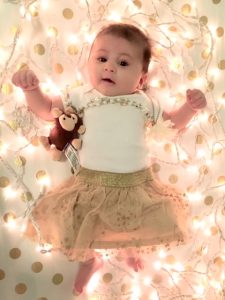 In loving memory of our little lady, Phoenix Jade Lincoln
God gave Phoenix birth on November 6th, 2017, to parents Girlie and Cory Lincoln who have been waiting for her arrival for 3 years.  She was their miracle that brought them such joy, even during pregnancy.
Phoenix loved playing on her floor gym, her nookie, car rides (only when the car was moving), when mommy would press her feet on her cheeks, and when daddy cradled her in his arms.  She would let her 4-legged sister, Minnie, lick her hands non-stop.  Phoenix's smile would brighten Cory's and Girlie's day.  And, in a small period of time, she touched many hearts.
Phoenix became an angel unexpectedly on February 4th, 2018.  Our hearts ache tremendously, but it brings us peace knowing she is with her Grandma Karen, Grandpa Virgil, her miscarried brother Phoenix Alexander, and God.
Dear Peanut, 
How does a father put into words the love he has for his baby girl?  How does he explain the morning smiles you would give or the feeling he had when you would hold his pinky finger with your tiny little hand?  How does a father say goodbye to his precious little girl?  He simply doesn't.  Until I see you again, you will always be on my mind and in my heart.
I will never forget you. 
Love, Daddy