Kairo Kareem Imaru tribute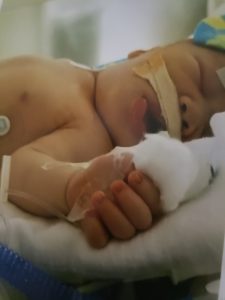 Kairo was born early Saturday morning June 23rd 2018 at 2:29 AM. Mommy's strong little angel! At 11 weeks pregnant I had my first ultrasound which was one of the most amazing moments of my life with you! I remember how active and full of attitude you were, just watching you on the monitor was everything. With joy came worry because the doctor told me that it looked like there was fluid around your tiny heart. I didn't know what that meant and neither did the doctor, I remember how upset I was with him because he couldn't tell me what that truly meant.
At 16 weeks, we found out your sex, initially we thought you were a girl. With that excitement came more worry and a lot of tears. The doctor brought us into another room and told us that you had a diaphragmatic hernia, plus congenital heart disease. All I could think was "My baby with these conditions! NO WAY! Not my baby", and also how I had always wanted to be a mother because I knew I would be a damn good one. Fast forward, you were everything I could ever want in a son, so strong, so brave, so full of life! I can remember all those OB visits, you made your momma so proud! You passed all your readings that the ultrasound tech and doctor required of you. You were such a star!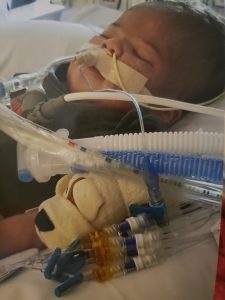 At 38 weeks, you were ready to bless the world with your presence, and you did so gracefully. And, you kept everyone on their toes, you made sure everyone was paying attention! At 2 days old, Kairo had his diaphragmatic hernia repaired. I was so scared, I cried like a baby. I wished I could swap places with you, I needed you to be okay. You were amazing and you kept making your momma proud! Kairo went through more procedures but never ended up getting heart surgery. Kairo kept having tachycardia episodes, high fevers, and there was too much pressure on his little lungs. Throughout our 3-month stay at Children's we had 3 scares, and witnessed 3 other sad events. 3 was the lucky or unlucky number, depending on how you looked at it.
I remember I was staying in the Ronald McDonald House the morning you gained your wings. I remember before I went to bed the night before, I told you that I knew you were tired and that it was okay baby, and that I was tired for you. You have given me so much in the little bit of time with you.
I got Kairo baptized that morning, I was beyond favored by God because he gave me his peace, he allowed me to say "when", when I wanted to let you go. It was time and I didn't want to be selfish, I remember I kept saying that "this was no life for a baby". You deserved to be free and fly away with your angel friends.
You will forever be Mommy's, always.
You are Mommy's hero.