MARGASHADA ILMAHA (ILAA 1 SANO)
Article Translations: (English) (Spanish) (Hmong)
Sidee baan uga hortagi karaa margashada?
Margashadu aad ayey ugu badan tahay ilmaha da'doodu ka yar tahay 5 sano. Cuntada waa in aad loogu yaryareeyo, oo waa in isha lagu hayo markay ilmuhu wax cunayaan. Waa in aan loo oggolaan in ay afka cunto ama wax kale ku haystaan markay ordayaan, hadlayaan, ooyaan, ama qoslayaan. Waxyaabaha caadiga ah ee ay ilmuhu ku margadaan waxaa ka mid ah:
guluusyada, lacagta qaddaaddiicda ah
canabka, dabacasaha ceyriinka ah
hilib-dhuudhuubka
nacnaca adag, lowska, daangada
buufinka cinjirka ah
alaabada yaryar ama kuwa ciyaarta
Waa maxay calaamadaha margashada?
naqas sharqamaya oo ah cod dheer
qufaca aan la maqli karin
inuusan ilmuhu cod sameyn karin
midabkooda oo isu beddela guduud ilaa basali ilaa buluug
inuusan ilmuhu neefsan karin
Maxaa loo qaban karaa?
Dhabarka in laga dharbaaxo:

In 1 gacan loo dhigo madaxa, luqunta, iyo qalka.

Wejiga in la foorariyo oo gacan loo hoos dhigo.

Fariiso ama jilbaha dhigo oo gacmaha dul saaro dhabtaada ama bowdadaada.

Adigoo isticmaalaya gacanta qeybta adag, ilaa 5 jeer aayar uga dharbaax garbaha dhexdooda.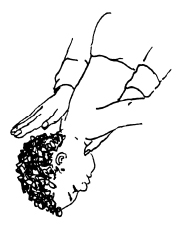 Riixista xabadka:

Wejiga ilmaha kor ugu jeedi, adigoo gacantaada u dhigaya madaxa iyo luqunta.

5 jeer si aayar ah xabadka ugu riix, adigoo isticmaalaya 2 farood meel ka hooseysa naasaha.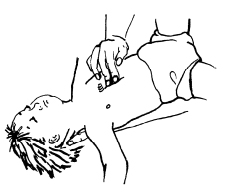 Ku celceli waxaad sameysay 1 iyo 2 ilaa ilmuhu neefsado, qufaco, ooyo, ama uu jawaabi waayo.
Haddii aad jawaab ka weydo nuunnaha
Qeyli, "Na Caawiya - soo garaac 911!"

Afka uga neefso CPR, oo u fur neefmareenka aad uga neefsaneyso, afka gudihiisa wax ka fiiri. Haddii aad aragto wax ku dhex jira, ka soo saar. Haddii aad waxba ka arki weydo, farahaaga ha ku riixin afka gudihiisa.

Ku samee CPR ilaa ilmuhu ka jawaabo, ama ilaa ay yimaadaan shaqaalaha gargaarka.
Muhiim
Talooyinkan waa dulmarid la isku baro sida margashada loogula tacaalo ee gargaarka degdegga. Wax kasta halkan kuma dhammeystirna. Waxaa khasab ah in farsamada lagu barto boombale ama caag qof u eg iyadoo macallin joogo. Ha ku sameyn qofna habkan gargaarka ah ee lagu tababarto.
Su'aalo?
Children's Minnesota
Macluumaadka Bukaanka/Qoyska
2525 Chicago Avenue South
Minneapolis, MN 55404
Wakhtigii Habdhiskan Neefsashada 3/2023 ©Copyright
This page is not specific to your child, but provides general information on the topic above. If you have any questions, please call your clinic. For more reading material about this and other health topics, please call or visit Children's Minnesota Family Resource Center library, or visit www.childrensmn.org/educationmaterials.
© 2023 Children's Minnesota