Primary Care Doctors: Who's Who
A primary care physician practices general medicine and is your first stop for medical care. If you've got a cough, sniffle, or you're short of breath, your primary care specialist can tell if it's an infection, like a cold — or if it's or something else, like asthma or allergies. If it's not something your doc can treat, he or she will refer you to a specialist.
Several different types of primary care doctors treat teens. What's right for you all depends on your needs. Primary care doctors often work closely with other experts, like nurse practitioners, who also might be qualified in specialties like adolescent medicine.
Pediatricians
Pediatricians care for babies, kids, and teens. These docs can be great listeners and are often good at explaining medical concepts in a way that's easy to understand. Lots of teens continue to work with the pediatrician who has treated them since they were babies — after all, no one knows you and your medical history as well. Pediatricians stop treating patients as they reach different ages, so check with yours to see what the situation is.
If you stick with your childhood doctor, make sure he or she recognizes that you are growing up and that your concerns are changing.
Internists
Internists are also called internal medicine doctors. This type of doc sees adults, but some see patients who are in their late teens. You might choose to use the same internist as your parents or other relatives, or someone different. Sometimes you can choose a different doctor in the same office.
Internists are used to talking to adults, so there can be some "culture shock" switching from a pediatrician to a doctor who treats adults. Be prepared to ask for more details and don't hesitate to ask a doctor to repeat something you don't understand.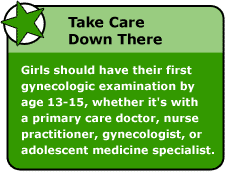 Adolescent Medicine Specialists
These pediatricians or internal medicine doctors have done additional training in caring for teens. It's sometimes easier to feel comfortable with adolescent medicine doctors, since they specialize in caring for teen patients. Not every town has an adolescent medicine specialist.
Combined Internal Medicine and Pediatrics Specialists
Some experts have training in both pediatrics and internal medicine. Called "med-peds" doctors for short, their special training allows them to bridge the gap between treating young patients and adults. This can be helpful when transitioning from childhood to adult care.
Med-peds experts can be particularly helpful to people with diseases that start in childhood and continue into adulthood, such as cystic fibrosis, achondroplasia, or diabetes. They often understand pediatric illness better than other internal medicine docs. As with adolescent specialists, it may be harder to find med-peds specialists in certain areas.
Family Medicine Doctors
These doctors care for patients from infants to the elderly, including teens and young adults. A family medicine doctor sometimes sees everyone in the same family, parents as well as kids.
Primary care physicians are there to help people establish healthy lifestyles, giving advice on things like exercise and weight management. They also help patients manage their health care and keep track of medical history so any health problems can be caught early. And, if we do have health problems, primary care physicians help coordinate specialized treatment and monitor medications so there's less chance of interactions and problems — and more chance we'll stay in the best of health!
Note: All information is for educational purposes only. For specific medical advice, diagnoses, and treatment, consult your doctor.
© 1995-2023 KidsHealth ® All rights reserved. Images provided by iStock, Getty Images, Corbis, Veer, Science Photo Library, Science Source Images, Shutterstock, and Clipart.com