Sickle Cell: Blandine and Jalen's stories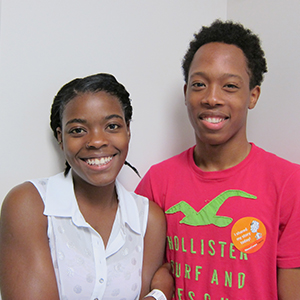 About this episode
Teenage friends Blandine and Jalen discuss their individual and shared experiences with sickle cell. The two friends met at Children's Minnesota and have shared a unique bond ever since.
Topics:
Support: Family, Friends
Treatment: Experiences
Advice/messages
Resilience
Fears and challenges
Jalen: What's it like being at Children's? What do you like the most?
Blandine: What I like most about Children's is the staff. You get to meet such great people– my nurse who I had ever since I've been coming here for eight years now, also my doctors. They come and go, but my nurse, Liz and Dr. Nelson have always stayed, and I feel like they're family to me, so I really appreciate that.
Jalen: Are you ever scared for your illness?
Blandine: Before I had a child, I used to not care whether I'd go to the hospital one day and never come back, because I would tell myself if this is your last day of ever being with your family, not only would you be free from so much pain, but they would too, because they have to see you go through this. And they would be there in the hospital seeing you in comas, and you had your stroke, and it was just devastating [sounds emotional], and I feel like nobody should go through that. No mother should see her child suffer. But as I got older and I have a kid, I said I'm here for a reason, obviously, and I can make a change even though I won't live for a long time. But the time I have, I can make friends, I can share my story, and I can help others. They say the loneliest people are always the ones trying to make other people happy, and I feel like that's my job, to make others happy.
Jalen: When it comes to you having sickle cell disease, who do you think understands you the most, or understands what you're going through?
Blandine: I feel like other friends with sickle cell understand what I'm going through. Because family, they say, they understand, but they really don't, especially when you're a child and you have your cousins. They don't understand. I had to confront my cousin because when I was younger she used to make fun of me Once I turned 18, she apologized. She said she didn't understand what was going on, but it still hurt. I feel like people don't understand unless they're walking in your shoes. That's [sighs] how life goes, I suppose.
Jalen: How have I helped you with your illness?
Blandine: [Chuckles] Well, we had some days where we both were in the hospital together, and we went to each other's room and hung out with each other. We talked to each other, give little back rubs, and helped each other out, and try to help each other take our medicine, which was helpful. We still keep in contact, and I appreciate that—thank you. Tell me about your story. I want to know your whole story—just lay it out there.
Jalen: What's my story? I would say that it would be like everybody else's story; it's just that I have sickle cell. Sometimes I get in pain, sometimes I don't, and I'm just trying to find my way out into the world and make sure that I'm living, surviving.
Blandine: What kind of sickle cell do you have?
Jalen: I have Sickle Cell SS. I've had it since I was a little boy. I used to get transfusions. I used to stay in the hospital a lot. I had a lot of acute chest syndromes, breathing problems.
Blandine: What was the best memory of one of the times you stayed?
Jalen: Probably the best memory I have of being in the hospital was with you, when we were both in the hospital. You gave me some smoothie. It was really the bomb, and I remember the smoothie being really the bomb. And we shared a Subway sandwich, and I walked over to your room, in pain, and you were like yeah, you look in pain, you shouldn't be walking, dah, dah, dah. You tried to tell me all the stuff I should do, but [I said] you're in the hospital, too, how did you get here, and like why are you telling me what to do.
I just felt like at that moment, I actually had somebody who truly understood what I was going through.
Blandine: How was school with sickle cell?
Jalen: Honestly, for me school was a little bit difficult with sickle cell because when I was a kid I'd get sick a lot and come to the hospital, and then I'd miss two weeks' worth of lessons and stuff that I don't remember. How about you? What did it affect for you?
Blandine: School was just difficult for me. I'm originally from Haiti, and when I was there, I always loved school. I got sick two times in Haiti. I wanted to give up in school, but I said that's one thing I will always keep fighting for.
Jalen: Is there anything you'd like to say to your family while you're recording this?
Blandine: What I'd like to say to my family is thank you for putting up with me, you know. Being the only person in my entire family with Sickle Cell is hard. I want to apologize for putting them through this. It wasn't my intention and it's not my fault, and I just want to say thank you for understanding so far.
Jalen: What advice would you give to somebody with sickle cell, or any type of disease, for that matter?
Blandine: Well, advice I would give to somebody with sickle cell or any type of disease is things are going to get better; just hang in there, don't give up. Always have a little bit of hope. Reach for better days. Tomorrow is another day away, as little Annie would say.
Jalen: What would you want to tell a doctor or nurse so they understand a little bit more?
Blandine: I would want to say, when you work with a patient, you build a relationship with them, and when you build a relationship with a patient, they consider you as family. They trust you and they will listen and believe whatever you tell them. o when you go into a field, especially with someone with my condition, we want someone who actually cares, someone who actually would take the time to study our chart so I think kindness is the key to everyone.
We wish to extend our thanks to the families who have shared their story here about the impact of living with hemophilia and sickle cell disease. We would also like to thank the many who worked on this project:
The Children's Minnesota StoryCorps Legacy Team:
Eddie Gonzalez, Jocelyn Bessette Gorlin, Susan Kearney, Stephen Nelson, Margaret Heisel-Kurth, Stephanie Davis, Angela Blue, Elizabeth McDonough, Jill Swenson and Alisa Linne.
Special thanks to:
Stephanie Moua, Hamdi Hussein, Sadia Farah, Fatima Ali, Caillyn Costello, Suzanne Lehman, Suzan Ulrich, D'Ann Urbaniak Lesch, Justin Nelson, Allison Albright, Marvin Holmes-Leopold, Jose Rodriguez and Mitch Hare.
Minneapolis Institute for Production and Recording:
Jose Rodriguez and Mitch Hare.