Sickle Cell: Trevon and Rae's story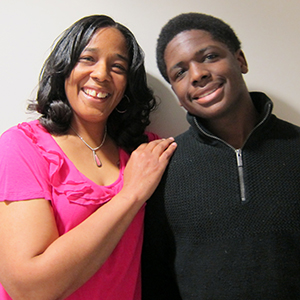 About this episode
Rae recounts her experiences in caring for her son with sickle cell. In the beginning, she remembers not knowing what questions to ask. Trevon sees himself as an advocate for those who do not have a voice in the sickle cell community.
Topics:
Diagnosis
Sickle Cell Crisis
Advice/messages
Resilience: Self advocacy
Rae: The moment I saw you for the first time, it was miraculous. It was amazing. You were obviously my first and only child, and after carrying knowing you have a child inside your body, but then to see what that child looks like just the amazing, miraculous, birthing process and that 9-10 month, this is what resulted. I think being a parent changed me because I found strength that I didn't know I had. Dealing with your sickle-cell disease, dealing with being a single parent, dealing with trying to maintain a household at the same time as being there for you, it had its challenging moments.
Trevon: Do you remember the day when you were told that I had sickle-cell disease?
Rae: I do. I remember being called by Dr. Inman, who was my pediatrician. You were about two weeks old, and he said, 'Time to bring the baby in and check him out and see how he's doing." I came in and had you with me and had both of my parents with me. After he did his typical two-week examination, he said that they discovered that you had sickle-cell disease. The first time you were in the hospital, and you were admitted because of a sickle-cell crisis. I remember that vividly, because it was so new to me. I didn't know what to expect. I didn't know what to ask. I didn't know or have a relationship with the people who were taking care of you. I didn't want you to see or feel the fear that I had. That was an experience to remember. What do you see your life being like as an adult, as a husband, as a father with sickle cell?
Trevon: Taking medication every day obviously for my sickle cell, asthma and all that kind of stuff. Doing more awareness type of campaign or more speeches. Being maybe on a job and starting a program in whatever job or corporation I do.
Rae: Tell me for you what have been some of the positive and some of the negative or difficult times dealing with sickle-cell disease?
Trevon: First, I would definitely say a positive experience would be getting to share my story with other people, being an advocate for those who don't have a voice in the community and getting to go to different types of events and give an informative speech or give a thank you to those who contribute to the sickle-cell community. One of the more difficult experiences would be growing up with it early on, the immature kind of kids we are in middle school or elementary school where you say you have a disease and immediately someone thinks of it as being contagious, or you getting casted out and saying he's different, or you getting left alone, you getting pushed to the side because everybody says, 'He has a disease. We don't want to catch it. When they are young, it's more difficult to tell them it's not contagious. It's a little more difficult to explain to them what it actually is and what it means. I think as growing up and as old as I am and going off to college, it will be helpful and it will be more insightful to others to know about this kind of stuff. I can teach others that it's not one of those diseases that you can catch, but it's another disease that you should be aware of when you go out into the life, because you never know maybe if you do or if the person you end up marrying does and how it effects your life. Another positive experience is what could happen.
We wish to extend our thanks to the families who have shared their story here about the impact of living with hemophilia and sickle cell disease. We would also like to thank the many who worked on this project:
The Children's Minnesota StoryCorps Legacy Team:
Eddie Gonzalez, Jocelyn Bessette Gorlin, Susan Kearney, Stephen Nelson, Margaret Heisel-Kurth, Stephanie Davis, Angela Blue, Elizabeth McDonough, Jill Swenson and Alisa Linne.
Special thanks to:
Stephanie Moua, Hamdi Hussein, Sadia Farah, Fatima Ali, Caillyn Costello, Suzanne Lehman, Suzan Ulrich, D'Ann Urbaniak Lesch, Justin Nelson, Allison Albright, Marvin Holmes-Leopold, Jose Rodriguez and Mitch Hare.
Minneapolis Institute for Production and Recording:
Jose Rodriguez and Mitch Hare.