Mighty Margaret mightier than ever
We met Mighty Margaret in June of 2017 when she was just five months old and preparing to have open heart surgery later that summer. Now two years old and bursting with personality, Margaret is walking, talking, and eating – lots of hot dogs and mac and cheese, to be exact.
"She's extremely independent and she's getting better at telling us what she wants," says Michaela, Margaret's mom. "She has no fear and it's coming out in all aspects of her personality!"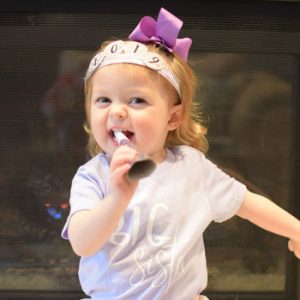 Diagnosed in-utero with Tetralogy of Fallot with pulmonary atresia and major aortopulmonary collateral arteries (TOF/PA/MAPCAs), Michaela and husband Bill suddenly needed to prepare for a child that would be born with a rare congenital heart defect. Though expected to require a lot of initial support when she was born, Margaret surprised doctors when she didn't need oxygen immediately after birth and began nursing only a few days later. At 44 days old, Margaret was discharged and able to go home for the first time.
Since then, she's continued to fight through a variety of obstacles, including a diagnosis of pulmonary hypertension (when there is abnormally high blood pressure in the pulmonary circulation, meaning the heart has to work harder to pump blood) and a ventricular aneurysm.
In one year, Margaret had five heart catheter surgeries and one unexpected open heart surgery as a result of the aneurysm. Michaela hopes that as Margaret grows, it will be easier to learn more about her heart and why it's not functioning the way it should.
"As she gets older and bigger, we hope things will get smoother and easier," said Michaela.
In fact, Margaret was able to wean off of a heart medication late last year without complication. She was also able successfully reduce tube feeds in October 2018 and hasn't needed a single one since. And while she has experienced a few winter colds like any toddler, Margaret has overall remained relatively healthy and happy.
While Margaret's care team has remained the same since for the most part she was born, there are a handful of doctors and nurses that no longer see her on a regular basis. However, Michaela says that whenever Margaret is in for an appointment or surgery, those care team members from her early months always make time to stop in for a quick visit.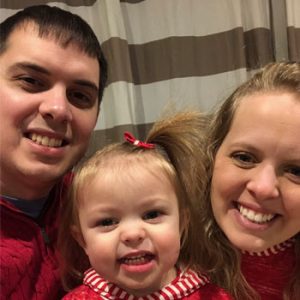 "Whether they're popping into our room in the Cardiovascular Care Center (CVCC) or catching us in the hall at the clinic, we almost always end up seeing someone who gets excited just to see how she's doing," said Michaela. "That's the kind of clinic and hospital we want caring for our daughter and we continue to feel very blessed to live where we do and have access to a place like Children's and the Heart Clinic."
You can find more information about the Children's Minnesota Heart Clinic on the website.
Laura Stokes