Five spooky (and healthy!) snacks kids will love for Halloween
When many people — especially children — think of holidays, they often think of eating candy and sweets. It can be really hard for parents to get kids to eat healthy foods on Halloween, but if kids try to only eat candy all day they might end the night feeling really sick.
But healthy foods certainly don't have to be boring! Here are some fun, spooky and, most importantly, yummy snacks you can serve your kids on Halloween.
Mummy dogs
Wrap a hot dog in a skinny slice of pre-made dough from the grocery store (you can find this in the refrigerator section!) and bake in the oven until the dough is cooked through. Follow the instructions on the dough for how long to bake.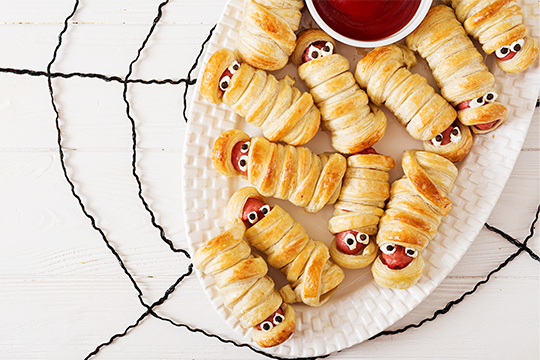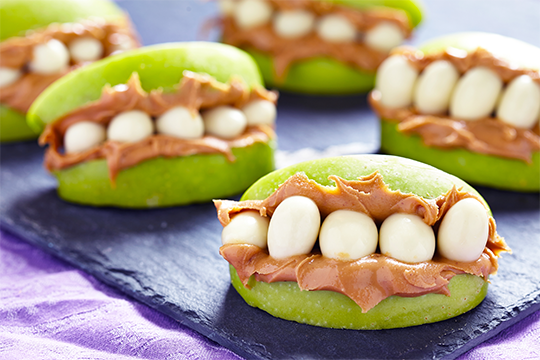 Slather your family's favorite nut butter between two apple slices and add yogurt-covered nuts to look like teeth.
It doesn't get much easier than this! Peel a small or medium-sized orange. For the pumpkin stem, cut a celery stick into a smaller piece and place it in the center. It'll look just like a pumpkin!
Ghost bananas
No tricks here! Cut a peeled banana in half. Place the flat side down on a plate. For the face, place two raisins or chocolate chips for eyes and one in the center to look like a mouth!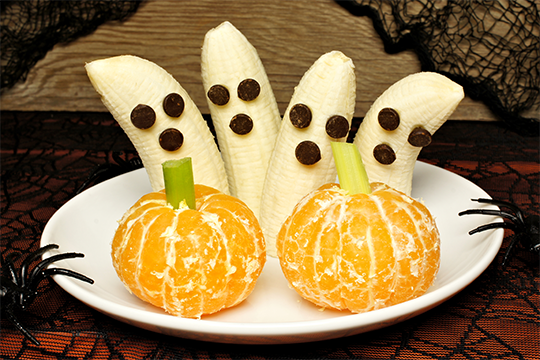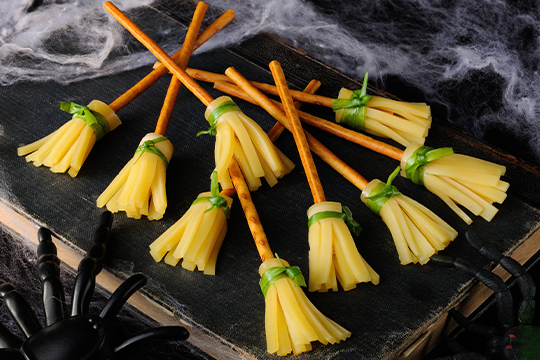 Cut your child's favorite kind of cheese stick in half to shorten it. Then make vertical cuts at the bottom of the stick — but not all the way to the top — to make the broom. Insert a small pretzel stick into the top of the cheese stick to make it look like the handle of the broom. Enjoy!
Even though Halloween is only one night of the year, it's important that kids still eat healthy foods before indulging in candy. Serving some of these recipes on Halloween can help kids get the energy they need to celebrate and can help them enjoy treats in moderation.
Kaitlyn Kamleiter