Tips for using Halloween to foster your child's development
The frights and sights of Halloween can be a fun time for kids. But did you know the spooky season can also support your young child's development? From developing motor skills to nurturing social skills, there are a number of ways you can use the holiday to help tiny monsters and superheroes grow physically and mentally.
Discussing Halloween activities to help children's development on WCCO
Dr. Razaan Bryne, outpatient pediatrician, talks with WCCO about how some Halloween activities can be important for children's development.
Pumpkin picking and carving are a great way for your child to explore some of the five senses. When visiting a pumpkin patch, let your child explore, touch pumpkins or feel the crinkle of fallen leaves. Keep in mind we're still in the COVID-19 pandemic, so remember to bring hand sanitizer!
When you've picked the perfect pumpkins and brought them home, involve your child in the carving. Allowing them to squeeze their hands around the inside of the pumpkin is a good sensory activity. Getting inside the pumpkin can also strengthen their fine and gross motor skills – the small muscles in their fingers and the large muscles of the arms. Plus, your child will explore their senses – feelings, smelling and seeing the pumpkin as it's transformed into a Jack-o-Lantern.
After you're done carving the pumpkin, roast the pumpkin seeds with your child. The measuring and counting involved with cooking can set a foundation for math skills. Make sure your child is old enough to eat seeds because they can be a choking hazard
Probably the most exciting part of Halloween for kids is the costumes! Let your child use their imagination to come up with their costume. Preschoolers and elementary-aged kids are at the peak pretending stage and dressing up as a character teaches them how to role play, take in other people's perspectives which sets a basis for empathy. Pretend play helps your child learn how to be creative and flexible; an important life skill for their future.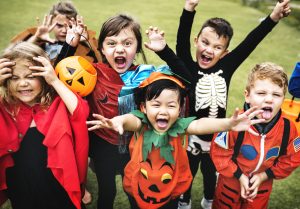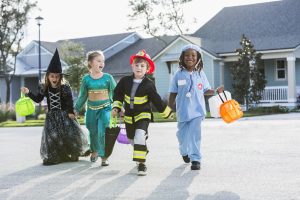 Trick-or-treating for social development
When your child joins other children during trick-or-treating, it can help them develop valuable social and emotional skills. They learn how to work with others which will be important as they go through school.
Trick-or-treating is also a good opportunity for your child to learn about following rules – an important developmental lesson. Teach them that if they're under the age of 12, they should be accompanied by an adult, whether that's you, a family friend or relative. They should know to always use sidewalks or paths and to stay out of the street, unless at a safe crosswalk.
Scares for emotional regulation
Young children are learning that Halloween is just for fun and that all of the scary things are pretend. Managing fears is one way your child develops emotional regulation skills. With your support, children can learn to manage their reactions to emotions.
However, watch for fears and anxieties your child may have about Halloween and acknowledge them. One way to handle fear and prepare your child for the holiday is to talk to them ahead of time. You can read them a book about Halloween to begin the discussion.
But, if your young child doesn't want anything to do with Halloween right now, that is OK. They may grow to like it in the future!
Finally, maybe the biggest benefit of Halloween, and other holidays, is your child gets to spend quality time with you which helps form positive family connections.