Inyecciones subcutáneas
Article Translations: (English) (Hmong)
Al niño se le debe administrar un medicamento por vía subcutánea (es decir, mediante una inyección colocada justo debajo de la piel).
¿Cómo se debe preparar al niño?
Primero, reúna todo lo que va a necesitar y luego explíquele brevemente lo que va a hacer, sin mentirle con relación al dolor, pero recalcando los beneficios del medicamento.  Una vez que se lo haya explicado, proceda con rapidez, ya que cuanto más demore, más nervioso se puede poner.
Si le parece que el niño no podrá quedarse quieto, pídale a alguien que le ayude a inmovilizarlo.
A veces pueden ser útiles ciertas técnicas de relajación o distracciones tales como apretarle la mano a alguien, tararear, contar o hacer burbujas. Trate de mantener al niño hablando o cantando. Consuélelo y elógielo después de haberle puesto la inyección, y asegúrele que no se trata de un castigo.
A medida que vaya creciendo, es posible que el niño quiera ponerse las inyecciones solo, o al menos ayudar. Si bien es recomendable que le anime a sentirse independiente, no lo fuerce antes de que esté listo para hacerlo.
¿Cómo se prepara el medicamento?

Siga las instrucciones que le correspondan según están marcadas abajo.
Lávese bien las manos con agua y jabón, frotando vigorosamente toda la piel por un mínimo de 15 segundos con jabón antibacteriano, o aplíquese un desinfectante con alcohol para las manos.
Reúna todo lo que va a necesitar:

toallitas empapadas en alcohol
algodón (si desea)
ampolleta del medicamento
jeringa de ___ ml con aguja de ___ pulgadas (_____ cm)
un recipiente especial para desechar las agujas, como por ejemplo:

un recipiente de bioseguridad
un envase plástico de detergente, vacío, con tapa.

Revise la etiqueta de la ampolleta para comprobar que no se haya vencido. Si el medicamento ha cambiado de color o tiene grumos, deséchelo y utilice una ampolleta nueva.
Si la ampolleta está fría, caliéntela en la mano o manténgala a temperatura ambiente por una hora. Si es necesario mezclar el medicamento, deslice la ampolleta entre las manos.  No la agite.

La primera vez que utilice una ampolleta, parta la cubierta plástica pero no retire la tapa de goma.
Frote la parte de arriba de la tapa de goma con una toallita empapada en alcohol, y déjela secar.
Introduzca aire en la jeringa, halando el émbolo hasta que llegue a la línea correspondiente a la cantidad de medicamento que se debe administrar.
Con cuidado, quite la cubierta de la aguja. No la toque. Introduzca la aguja en la tapa de goma y apriete el émbolo para que el aire entre en la ampolleta.

Voltee la ampolleta hacia abajo. Hale la aguja, de manera que quede sólo la punta atravesando la tapa de goma. Así podrá pasar el medicamento a la jeringa sin que le entre aire.
Hale el émbolo e introduzca el medicamento en la jeringa hasta que tenga la cantidad correcta.

Revise si la jeringa tiene burbujas. El aire no le haría ningún daño al niño, pero de haber una burbuja muy grande, se reduciría el tamaño de la dosis. Para eliminarlas, siga las instrucciones indicadas a continuación:
___ Con cuidado, vuelva a introducir el medicamento en la ampolleta y mida la dosis de nuevo.
___ Déle golpecitos a la jeringa con el dedo para que el aire suba y apriete el émbolo para que la burbuja se introduzca en la ampolleta. Mida la dosis de nuevo.
Retire la aguja de la ampolleta. Si necesita colocar la jeringa sobre alguna superficie, póngale la cubierta primero. No permita que la aguja entre en contacto con nada.
Cómo administrar la inyección
Escoja el sitio donde va a poner la inyección. (Consulte la sección titulada "Dónde se deben administrar las inyecciones")
Acueste o siente al niño, y retire la ropa que cubra el área.
Con una toallita empapada en alcohol, limpie el sitio con un movimiento circular y deje secar.
Retire la cubierta de la aguja y sostenga la jeringa como si fuera un dardo.
Con la otra mano, pellizque un área amplia de la piel que acaba de limpiar.
Con un movimiento rápido, introduzca la aguja en la piel con el ángulo indicado a continuación. Apriete el émbolo lentamente hasta que se vacíe la jeringa.

Suelte la piel y espere unos segundos antes de retirar la aguja, para evitar que se salga el medicamento.
Retire la aguja de la piel con rapidez y con el mismo ángulo que la introdujo, y luego presione el sitio por varios segundos con una bolita de algodón o una toallita de papel limpia. No frote la piel.
Deseche la jeringa y la aguja en el recipiente de bioseguridad.
De ser necesario, indique el sitio donde colocó la inyección en una tabla, de modo de alternarlo.
¿Dónde se deben administrar las inyecciones?
Si se administran inyecciones con frecuencia, es importante alternar los sitios para que el tejido sane y no se formen bultos ni se acumule tejido cicatrizal, ya que éstos pueden afectar la absorción del medicamento.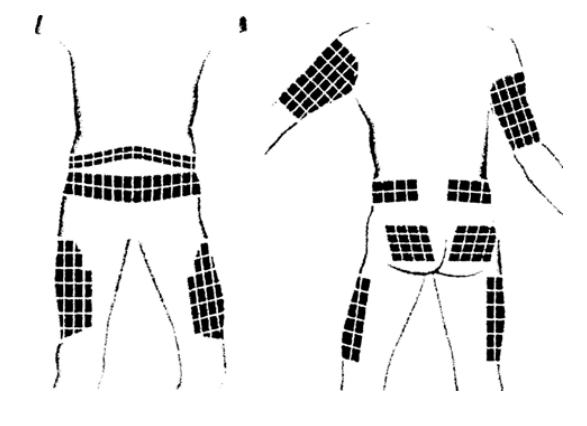 Puede elegir entre los sitios indicados en el gráfico.
No es necesario utilizar todos los sitios. Asegúrese de no poner las inyecciones cerca de una articulación (deberán ponerse a una distancia equivalente al menos al ancho de una mano).
¿Qué se debe hacer con el recipiente que contiene las inyecciones?
Cuando el recipiente esté lleno, séllelo y colóquele una etiqueta con las palabras "Household sharps" (término en inglés que se refiere a objetos punzantes o cortantes, tales como agujas, jeringas, navajas, etc).
La forma de desechar el recipiente dependerá del área donde viva; algunas comunidades tienen programas para la recolección de este tipo de desechos. La compañía encargada de la recolección de basura en el área donde vive, la farmacia o la clínica, podrán darle más información.
Información adicional
A medida que el niño vaya creciendo, es posible que tenga que cambiar el ángulo con el que se pone la inyección. Consulte al médico o enfermero.
Puesto que la mayoría de los medicamentos tienen efectos secundarios, es importante estar al tanto de los mismos y de lo que se debe hacer si se presentan.
Tanto usted como el niño (si tiene suficiente edad) deberán saber los nombres y las dosis de los medicamentos que se le administren. Comparta esta información con todas las personas que estén encargadas de su cuidado.
Asegúrese de tener siempre suficiente cantidad de medicamento. Cada vez que lo encargue en la farmacia, pregunte cuántas veces más se lo podrán surtir sin autorización del médico (en inglés se dice "refills"). Si necesita otra autorización, llame a la farmacia con 2 ó 3 días de anticipación, de modo que tengan suficiente tiempo para hacer los trámites necesarios.
Guarde los medicamentos fuera del alcance de los niños y bajo llave, si es posible, y deseche aquéllos que se hayan vencido.
Si el niño toma un medicamento equivocado o en una dosis excesiva, llame al centro de toxicología (Poison Control Center) al número gratuito 1 (800) 222-1222. Si pierde el conocimiento o tiene convulsiones, llame al número para emergencias 911.
¿En qué circunstancias se debe llamar al médico?
Si el niño tiene fiebre o escalofríos
Si tiene un bulto, un moretón, hinchazón o enrojecimiento en el sitio de la inyección, que no desaparecen
Si se presentan efectos secundarios que le preocupen a usted o le molesten al niño.
¿Tiene más preguntas?
Este folleto no es específico para su hijo; sólo le ofrece información general. Si tiene alguna pregunta, llame a la clínica o al farmaceuta.
This page is not specific to your child, but provides general information on the topic above. If you have any questions, please call your clinic. For more reading material about this and other health topics, please call or visit Children's Family Resource Center library, or visit www.childrensmn.org/educationmaterials.
© 2019 Children's Hospitals and Clinics of Minnesota