Summer Salmon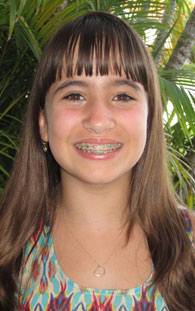 Note: Nicole Medina of Florida was invited to the White House because she won a national healthy recipe contest for creating this heart-healthy recipe. (If you try this recipe, get a grownup's help because it requires using a knife and the stove.)
Prep time: 25 minutes
What you need:
Juice from 1 orange
1 tablespoon extra-virgin olive oil
1 teaspoon honey
1 teaspoon mustard
Kosher salt and freshly ground black pepper
1 (6-ounce) skinless salmon fillet
1/4 cup whole-wheat linguine
6 asparagus spears, chopped
1/2 cup diced red pepper
1/4 medium onion, chopped
1 clove garlic, minced
4 sprigs fresh parsley, stems removed, and leaves chopped
2 fresh basil leaves, thinly sliced
1 teaspoon freshly grated pecorino cheese
Equipment and supplies:
Medium pan
Medium pot
Pasta drainer
Knife
What to do:
In a small bowl, whisk together the orange juice, 1 teaspoon olive oil, honey, and mustard.
In a medium sauté pan over moderate heat, warm 1 teaspoon olive oil.
Add the salmon and cook for 4 minutes.
Flip the salmon over, add the orange sauce, and continue to cook until the salmon is golden and cooked through, about 4 more minutes.
Season with salt and pepper and transfer to a plate.
In a medium pot of boiling salted water, cook the pasta until al dente, about 5 minutes.
Add the asparagus and red pepper and continue cooking for 2 more minutes.
Drain the pasta and veggies, and transfer to a bowl.
In a medium sauté pan over moderate heat, warm the remaining 1 teaspoon of olive oil.
Add the onion, garlic, parsley, and basil and sauté, stirring occasionally, about 3 minutes.
Add the onion and garlic mixture to the pasta.
Sprinkle the cheese, season with salt and pepper, and toss to combine.
Serve the salmon alongside the pasta and veggies.
Nutritional analysis (per serving):
230 calories
20g protein
11g fat
2g sat. fat
13g carbohydrate
2g fiber
40mg cholesterol
150mg sodium
4g sugars
Serves: 2
Serving size: 1/2 of the recipe
Note: Nutritional analysis may vary depending on ingredient brands used.
Note: All information is for educational purposes only. For specific medical advice, diagnoses, and treatment, consult your doctor.
© 1995-2023 KidsHealth ® All rights reserved. Images provided by iStock, Getty Images, Corbis, Veer, Science Photo Library, Science Source Images, Shutterstock, and Clipart.com