How Many Doses of Flu Vaccine Does My Child Need?
One dose or two? It's easy to get confused about the current flu vaccine recommendations for kids. Use our tool to figure out if your child needs no dose, one dose, or two doses of flu vaccine.
And for more information about the flu — prevention, treatment, and guides — check out our Flu Center.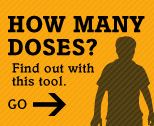 Note: All information is for educational purposes only. For specific medical advice, diagnoses, and treatment, consult your doctor.
© 1995-2023 KidsHealth ® All rights reserved. Images provided by iStock, Getty Images, Corbis, Veer, Science Photo Library, Science Source Images, Shutterstock, and Clipart.com