May also be called: Soiling
Encopresis (soiling) is a condition that causes a child beyond the age of toilet training to have bowel movements (poop) in his or her underwear.
More to Know
Kids with encopresis (en-kuh-PREE-sis) have a bowel problem that dulls the normal urge to go to the bathroom — and they can't control the accidents that typically follow.
Most encopresis cases are due to functional constipation — that is, constipation that has no medical cause. In constipation, the stool becomes hard, dry, and painful to pass. These large stools stretch out the rectum and colon (parts of the bowel) and decrease a child's urge to have a bowel movement (BM). Eventually, liquid stool leaks around a large piece of hard stool lodged in the rectum.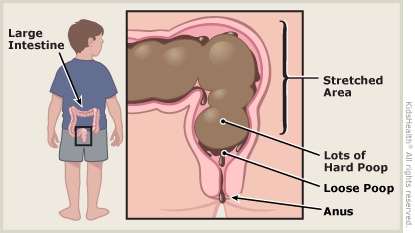 Keep in Mind
Encopresis improves when constipation is successfully treated. Treatment can include medications, modified diet, and increased exercise.
All A to Z dictionary entries are regularly reviewed by KidsHealth medical experts.
Note: All information is for educational purposes only. For specific medical advice, diagnoses, and treatment, consult your doctor.
© 1995-2023 KidsHealth ® All rights reserved. Images provided by iStock, Getty Images, Corbis, Veer, Science Photo Library, Science Source Images, Shutterstock, and Clipart.com