Therapy for ADHD
What Is Therapy for ADHD?
Therapy is part of the treatment for most kids and teens diagnosed with ADHD. Kids have meetings with a therapist to help with the problems that ADHD can cause.
In therapy, kids learn skills like listening and paying attention better.
Some kids with ADHD also get another type of therapy called occupational therapy. This helps when things like balance or handwriting are difficult because of ADHD or a learning disability.
Treatment for ADHD usually includes medicine. Medicines help kids pay attention, use self-control, and fidget less. Medicine works best when kids also have therapy.
Why Do Kids Need Therapy for ADHD?
Therapy helps kids with ADHD do better in school and at home. For example, they learn how to:
be better organized
focus on schoolwork
listen and pay attention better
get along better with others
have fewer behavior problems
Some kids need therapy to help ease difficult emotions caused by ADHD. For example, kids might lose confidence or feel like they're disappointing others. Some kids become depressed, anxious, angry, or frustrated.
When kids learn skills to manage ADHD, they do better. Therapy also helps kids feel happier and more confident.
How Does ADHD Therapy Work?
In ADHD therapy, kids learn by doing. A therapist will share activities and ideas that focus on building the skills a child or teen needs. Therapists can teach study skills, emotion skills, or attention skills, such as mindful breathing. They can teach social skills to help kids get along better with others. They can teach skills to cope with anxiety. Kids practice the skills they learn.
In ADHD therapy, a positive relationship with the therapist helps kids feel encouraged and supported as they learn.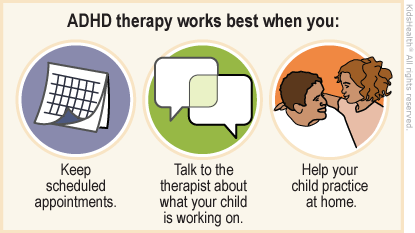 Depending on the child's age, a therapist might meet with the child and parent together, or with the child alone. When parents work with kids in therapy sessions, they learn tips and ideas for keeping up the lessons at home.
Parents can help kids use and practice what they learn. Kids build confidence and self-esteem as they master new skills.
What Happens in ADHD Therapy?
At the beginning, your child's therapist will talk with you and ask questions. Listening to your answers helps the therapist learn more about your child. Together you will make goals for what you want to improve.
Parents and kids usually meet with the therapist once a week for a few months. 
Therapy sessions include activities like:
Talking and listening. Therapists teach kids to talk about their feelings. This helps kids notice their feelings and express them in words instead of actions. Talking and listening helps kids feel understood and ready to learn. It also helps kids learn to pay attention and listen better.
Playing with a purpose. For young kids, play can teach self-control — like waiting to take a turn. Therapists might use games that teach kids to slow down, follow directions, and try again instead of losing their temper or giving up. Play is also a way for kids to learn how to plan, organize, and put things away.
Doing activities that teach lessons. Therapists might teach lessons about emotions, organizing schoolwork, studying, or understanding others. Activities and worksheets help make these lessons fun.
Practicing new skills. A therapist might teach kids skills like mindfulness and breathing exercises. These skills can train attention and calm the mind and body. Therapy sessions can be a time to practice these skills.
Problem solving. Therapists will ask about ADHD problems in school and at home. They will talk together with kids and parents about how to work out these problems.
How Long Do Kids Do ADHD Therapy?
How long therapy lasts will depend on your goals. Most of the time, a therapist will want to meet with your child once a week for a few months.
How Can Parents Help?
Having ADHD isn't a child's — or a parent's — fault. But there are things that children and parents can learn in therapy to help things get better.
Here's how you can help:
Find a therapist your child feels comfortable with. Ask your child's health care team to help you find one. Or go to the CHADD website to find someone near you.
Take your child to all recommended visits. Learning new skills is a habit that kids need to keep up until they master it.
Work with your child's therapist on how to best respond to ADHD behaviors.
Ask how you can help your child practice at home. Are there games you can play or skills you can help your child learn?
Parent with patience and warmth.
Note: All information is for educational purposes only. For specific medical advice, diagnoses, and treatment, consult your doctor.
© 1995-2023 KidsHealth ® All rights reserved. Images provided by iStock, Getty Images, Corbis, Veer, Science Photo Library, Science Source Images, Shutterstock, and Clipart.com