A piece of home at the hospital – Toyota USA makes a donation to Children's Minnesota
A Toyota 4Runner – overflowing with everything a child could want from clothes to snacks to toys – made a special delivery to Children's Minneapolis hospital campus, thanks to a generous donation from Toyota USA.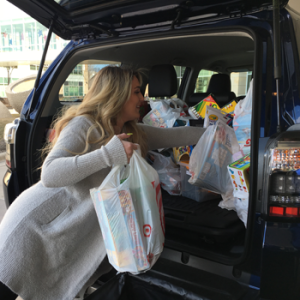 As part of its national community outreach, Toyota chose Children's Minnesota as the recipient of $4,000 of giving, including donations of toys, snacks and a $2,000 cash gift. The donation was delivered by social media influencer Jordan Renie, who shopped from Children's wish list, presented the gift to patients and families at the Minneapolis hospital campus, and shared it on her social media platforms. From onesies for newborns to puzzles, art and snacks, donations like these let kids be kids by making the time they have to spend at the hospital a little less stressful and more like home.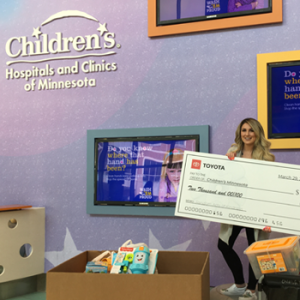 "We are so grateful to Toyota for this generous gift that will go a long way in making a stay at the hospital a more positive experience," said Annie Waters, vice president of foundation operations and associate chief development officer. "Sometimes kids have to stay a long time at the hospital and it is important to Children's that we provide them not only with the things they need but the things they enjoy."
As a nonprofit, Children's relies on the generosity of community donations to continue being able to provide the best care possible. Contributions help cover the costs for those who otherwise can't afford medical care for their children, or pay for the unique aspects of care that are not covered by insurance — like language interpreters for families who have limited English proficiency or art therapy. Whether it's cash or in-kind donations, even the smallest contributions can make a difference. Learn more about how you can donate.
Alexandra Rothstein