Minnesota Vikings head coach, Mike Zimmer, brings Children's patient as guest to season-opener game
Many Minnesotans consider themselves Vikings superfans, but 11-year-old Kaden may just be the biggest fan. However, he had yet to watch a regular-season game at U.S. Bank Stadium. On Sunday, Sept. 8, 2019, Vikings head coach, Mike Zimmer, invited Kaden to join him at the season-opener game against the Atlanta Falcons.
Zimmer provides opportunities like this to patients at Children's Minnesota through his partnership with Shine Bright for Cancer Kids. During the month of September, organizations like The Mike Zimmer Foundation, join Children's to raise money for the Cancer Kids Fund.
Because of this campaign, Kaden's first regular-season Vikings game was with coach Zimmer, who made sure it was fitting for the team's #1 fan.
Inspired by the fighting spirit of the Vikings, Kaden has shown strength and resilience in the face of multiple diagnoses. He has been battling serious illnesses since he was a toddler. At just 3 years old, Kaden was diagnosed with neurofibromatosis type 1 (NF1), a condition that causes skin changes and tumors along the nerves in the body. Years later, he was diagnosed with cyclic vomiting syndrome and a brainstem glioma, a tumor in the central nervous system.
For a three-year period, Kaden was frequently hospitalized due to nausea, vomiting, hallucinations, hypertension and severe abdominal pain. Kaden's family lost track of the number of times they were admitted to the hospital, due to Kaden's illnesses. Because of the complexity of Kaden's multiple diagnoses, care and treatment were incredibly difficult to manage for his providers and family. At one point, he was receiving care from nine different specialty teams.
From August 2018 to June 2019, Kaden underwent chemotherapy to treat his brain tumor. Decked out from head-to-toe in Vikings gear, Kaden went to his first chemotherapy appointment ready to fight like a Viking.
After having two serious reactions to chemotherapy, Kaden's doctors switched him to a form of therapy that he could take at home.
On August 23, 2019, Kaden celebrated two full years without a single hospitalization! He now has zero restrictions and is old enough to know his limits on his own, making it much easier for him to manage his symptoms.
Kaden's parents surprised him while they were already on their way to the stadium. He had no idea that he would be attending a Vikings game in person, or that he would be attending as Zimmer's guest! To say he was excited was an understatement.
Kaden inspires everyone around him, and after today's amazing game day experience, he will continue to be a life-long Vikings fan.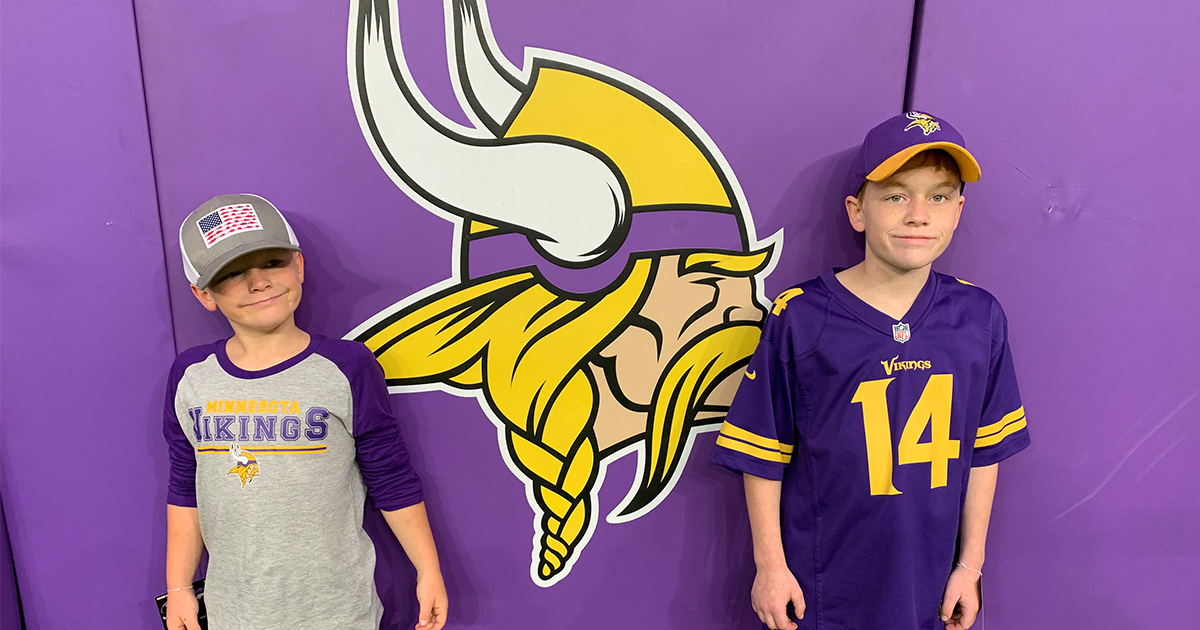 Shine Bright for Cancer Kids
The team at Children's cares for nearly 1,000 kids every year fighting cancer, more than any other hospital in the state. This September, join us in supporting patients and families battling cancer by participating in Shine Bright for Cancer Kids!
Businesses throughout Minnesota will be offering special promotions and discounts with the proceeds benefiting our Cancer Kids Fund. Just by visiting your favorite businesses, you'll be providing patient families with everything from activities, entertainment, music therapy, to everyday expenses like meals and transportation.
Learn more about Shine Bright for Cancer Kids.
Alexandra Rothstein