Get a haircut that makes a difference during the Great Clips cut-a-thon
The 29th annual Great Clips cut-a-thon will take place from Saturday, Aug. 27, through Friday, Sept. 2. Great Clips salons are donating a portion of proceeds from each haircut to support the school re-entry program at Children's Minnesota.
This program helps kids with cancer and other serious illnesses go back to school with confidence. The Great Clips cut-a-thon has raised more than $1.7 million for the school re-entry program to date. Let us know you're participating in our Facebook event!
Steps you can take to give back to patients and families at Children's Minnesota during the cut-a-thon
Check in online to get your haircut at a participating Great Clips location in the Twin Cities metro. It's that simple! A portion of proceeds from your haircut will go directly to our school re-entry program.
Go the extra step! During August, you can make a donation at the participating salon. Then, you'll receive a $2-off coupon for your next Great Clips haircut!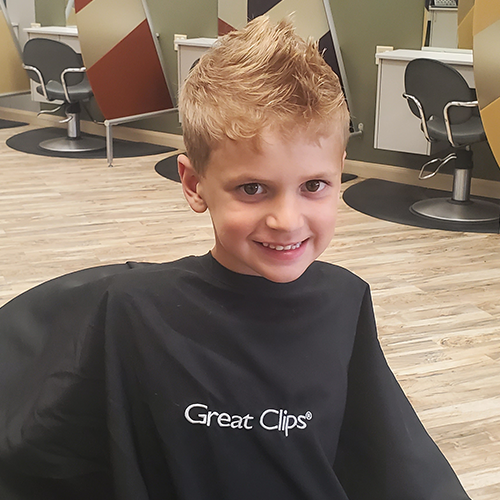 Hear from 10-year-old Chloe McDonough, who was diagnosed with a form of leukemia in 2021, about this program and how it helped her.
Children's Minnesota's school re-entry program
Children recovering from a long-term illness face another hurdle, and that hurdle is going back to school.
"Our amazing patients fight so hard to reach recovery, but then face the challenge of going back to school. Kids sometimes get bullied only because of a lack of understanding," said Jennifer Soderholm, chief development officer and president of the Children's Minnesota Foundation. "The school re-entry program works with patients, families and schools to help kids transition smoothly back to class."
The Children's Minnesota school re-entry program helps address the medical and emotional needs that our patients have after they leave our care and are transitioning back into their school. Families oftentimes wonder what they should share with their school nurse or what a child should share with their peers.
How the school re-entry program helps
"Our child life specialists work with students who are reentering the classroom after battling cancer and other serious illness. The program is really meant to help build self-esteem and confidence," said
Joy Johnson-Lind, senior director of child and family services,
in an
interview about the program on WCCO
.
Our program is tailored depending on what each individual family and school needs. but here are a few examples of what we do to help in this program:
Phone consultation with the school to determine what their staff comfort level is with a particular diagnosis.
Virtual or in-person visit facilitated by a child life specialist in which the patient is empowered to share their story and classmates can learn about what they've been navigating.
Providing resources so that the school can continue those supportive conversations moving forward.
Great Clips cut-a-thon background
In 2019, the 27th annual cut-a-thon was held in memory of Brett Wieber, who passed away earlier that year at the age of 33 after a long battle with cancer. The annual cut-a-thon started 29 years ago when local Great Clips franchisee and real estate agent Regina Finkelstein helped Brett's parents, Margi and Dean, find a home. Brett was battling cancer, so Regina decided to start the cut-a-thon to raise funds for Children's Minnesota. After the first year, the school re-entry program was founded.
"When I met Margi and Dean, I was struck by their story and knew I had to do something to help families like theirs," said Finkelstein. "Brett fought a long and hard battle and was a joy to know."
Great Clips and Children's Minnesota
For almost 30 years, Great Clips has been a champion for the patients and families of the Children's Minnesota community. Through its many different initiatives, Great Clips has awarded Children's Minnesota with more than $1.7 million to help fund the school re-entry program. Children's Minnesota is proud to partner with Great Clips in their efforts to help kids in their communities.