WELCOME TO THE CHILDREN'S MINNESOTA 2021 NURSING ANNUAL REPORT. 
I'm excited to highlight the contributions our Children's Minnesota nurses made in 2021. With their talent, devotion and adaptability, our nursing team not only bolstered our organization in a time of great change, but also delivered excellent care to the children in our hospitals and clinics.
As you read the stories in this annual report, you will find a connection to at least one of the foundational elements within the Children's Minnesota Nursing Professional Practice Model, REACH: Advanced Excellence, Partners in Care, Nursing Care Delivery, Shared Governance and The Children's Way.
Reflecting on last year, I keep thinking about one word: grace. We had hoped 2021 would be a less turbulent year than 2020, but we faced just as many challenges — and our nurses responded with tremendous grace under pressure. Amid the disruptions of the pandemic, the unexpected surges in patient volume and our organization's strategic transformation, nurses never wavered. They remained dedicated to caring for kids, and to the belief that kids deserve care that is highly specialized, compassionate and made just for them.
And that goes for all kids. As we at Children's Minnesota work to advance equity and inclusion, our nursing team is leading the way. I'm so encouraged by our nurses' willingness to learn, change and grow. They're working hard to make our vision of a better future for all children a reality.
We know that families count on us to be the experts. They count on us to care for their children as if they were the most important people in the world — because they are. It's an honor and a huge responsibility. Our nurses understand this and take on the challenge every single day, with every patient, in the most extraordinary ways. I'm proud to be a part of this team.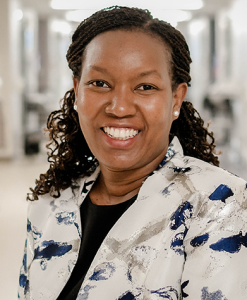 Thank you,
Caroline Njau, MBA, BSN, RN, NEA-BC
Chief Nursing Officer and Senior Vice President, Patient Care Services