2021 Nursing Annual Report
The Role of Bias in De-escalation course uses simulation to practice implicit bias mitigation strategies
The Role of Bias in De-escalation course provides an opportunity to practice implicit bias mitigation strategies and de-escalation skills in a simulated environment with embedded actors. During the course, small groups collaborate on the simulation cases and discuss the next steps for practicing bias mitigation skills at the bedside.  
Development of Bias in De-escalation course
In summer 2020, safety learning reports and family satisfaction scores, stratified by race, indicated an organization-wide gap in health equity. This gap was consistent with nationwide data on health disparities. In continuing education surveys and in conversations with leaders, clinical nurses also revealed a desire for hands-on practice and continuing education on implicit bias mitigation skills. Brittany Dahlen, MSN, RN, NPD-BC, CPN, clinical education specialist, simulation and Center for Professional Development and Practice (CPDP), and Samreen Vora, MD, MHAM, FACEP, medical director of simulation and emergency department physician, identified the opportunity to use simulation to allow participants to practice implicit bias mitigation strategies and began to develop a curriculum to offer this opportunity.  
Participants have the opportunity to practice each of the implicit bias mitigation skills: 
Counter-stereotypic imaging:

The health care professional, recognizing bias, purposely identifies members of a group who counter the stereotypical image of the group and replaces the automatic biased image with the positive image.

 

Emotional regulation:

The health care professional reflects on "gut feelings" and negative reactions (dislike, fear, frustration) to patients from vulnerable groups. The health care professional then intentionally strives to be empathetic, patient and compassionate.

 

Habit replacement:

The health care professional frames recognized biases as bad habits to be broken. They develop and use a personal toolkit of self-interventions to replace the bad habit of biased thinking with the good habit of accepting and caring about each patient as an individual.

 

Increasing opportunities for contact:

The health care professional seeks to develop relationships with members of a group to which the health care professional does not belong, with the goal of dissolving stereotypes.

 

Individuation:

The health care professional mindfully seeks seeing patients as individuals instead of as members of a stigmatized group.

 

Mindfulness:

The health care professional purposely takes time to calm thoughts and feelings by being mindful of the present moment, which can help the health care professional act compassionately toward the patient.

 

Partnership building:

The health care professional intentionally frames the clinical encounter as one in which the health care professional and patient are equals, working collaboratively toward the same goal.

 

Perspective taking:

The health care professional purposely and empathetically thinks about what the patient is thinking and feeling, stimulating feelings of caring and compassion.

 

Stereotype replacement:

The health care professional reflects on negative reactions to members of vulnerable populations, acknowledges stereotypical responses, considers the reason for the feeling and commits to responding with compassion in the future.

 
The course, piloted in the St. Paul NICU in 2021, included clinical nurses, nursing leaders, physicians and advanced practice providers. Between February and May 2021, approximately 200 health care professionals participated in the simulation-based course.  
Preliminary course outcomes show improved participant scores on case study-based questions regarding respect, dignity and sustained use of bias mitigation strategies at the bedside. 
Brittany Dahlen, MSN, RN, NPD-BC, CPN, Clinical Education Specialist, Simulation and Center for Professional Development and Practice (CPDP)

 

Samreen Vora, MD, MHAM, FACEP, Medical Director of Simulation, Simulation Department and Emergency Department

 
Clare Dudzinski, MSW, LICSW, Social Worker, PICU St. Paul

 

Elisabeth Groutwells, MSW, LICSW, Social Worker, NICU St. Paul

 

Monisha Husom, APRN, CNP, NNP, Educator, Neonatology

 

Janelle Koscinski, BA, CHES, Allied Health Education Specialist and Patient Family Education Specialist, CPDP

 

Shanna McCann,

BA, CPXP

, Patient Experience Coach, Value and Clinical Excellence

 

Erin Morhack, MSN, APRN, ACCNS-P, CPHON, Clinical Nurse Specialist, Hematology/Oncology

Suzanne Nelson, MSN, RN, PCNS-BC, CHSE, Simulation Education Specialist, Simulation Department

 

 

Siman Nuurali, Health Equity Coach

 

Mona Rippy, Patient Experience Coach, Value and Clinical Excellence

 

Lindsay Schipper, MBA, DNP, RN, PED-BC, NPD-BC, NE-BC, Clinical Education Specialist, CPDP

 
Two clinical nurses excel as 2021 Transition to Practice program instructors
 Children's Minnesota offers a unique opportunity to newly licensed nurses with its Transition to Practice (TTP) program. This two-year program provides support and education as learners transition from academia to practice.   
The TTP clinical nurse instructors (CNI) are alumni of the program and are clinical nurses at Children's Minnesota. Some roles of the TTP CNI include facilitating patient care experiences, developing and teaching classes and serving as a role model to newly licensed nurses. 
In 2021, Rachel Haunty, BSN, RN, CPN, PHN, clinical nurse, 7th floor, and Elizabeth Nisius, BSN, RN, RNC-NIC, clinical nurse, NICU Minneapolis, were selected for this one-year CNI opportunity. Haunty participated in several committees at Children's Minnesota, including unit council, Magnet champion and Professional Development Council, and precepted many nurses on the 7th floor. She enjoyed being involved, teaching and having opportunities to share her ideas; the TTP CNI position seemed like a great way for her to do all of these things.  
Haunty said, "[The CNI role] provided direction about where I want to go with my nursing career. One of my favorite parts of the role was it allowed me to be creative. I was able to design and develop teaching materials and references that were used throughout the TTP program. I am so proud to be a nurse and I love what I do; I want other people to feel the same. I want people to remember their "why" for choosing to be a nurse and find ways to reignite their passion."  
Elizabeth Nisius was interested in becoming a TTP CNI because she loves educating others and working with new hires. She also saw the opportunity as a way to build her own skills and expand her knowledge of clinical nursing and caring for patients. Learning more about the inner workings at Children's Minnesota was an added bonus for her.   
Nisius said, "This role has made a huge impact on my life and career. I got a glimpse of what goes into building a curriculum. One exciting project I worked on was building self-guided stations for neonatal learners so they could work independently and develop their skills. I cannot begin to express everything I've learned, how much this position meant to me and how thankful I am for the opportunity to work in the TTP program and with such amazing people!"
Student Summer Nurse Intern

p

rogram is

restarted

 
In 2019, Children's Minnesota re-established the 10-week Student Summer Nurse Intern program. The internship provides nursing students in their junior and senior years an opportunity to experience what it's like to work full-time in a clinical setting.   
2021 internships 
Approximately 340 students applied while only 46 were invited to participate in a virtual event and interview process in January 2021. Many students expressed a positive virtual interview experience and an interest in working at Children's Minnesota after graduation, but only 12 student summer nurse internship positions were available.   
The 12 interns started their 10-week immersion into clinical practice at the beginning of the summer. To support their learning and growth, interns were taught by two to three nurses who precepted clinical shifts, shared knowledge about professional development and supported an end-of-summer literature review presentation.  
In August, interns completed their program and presented a quality improvement project they identified. The 12 student interns continue to be engaged via quarterly updates provided by the Center for Professional Development and Practice.   
I loved my preceptors. They were very knowledgeable and pushed me to try new things and pursue new experiences. This program was a great introduction to the pediatric world." ~ Intern feedback
In collaboration with clinical educators and preceptors, interns:   
Assess the clinical environment and identify a gap or need. 

 

Evaluate the evidence related to the gap/need. 

 

Compare and contrast to current practice and bring a recommendation forward.  

Part 1: Submit scholarly project topic. 

 

Part 2: Submit a final presentation (literature review, summary of findings and recommendations). 

 

Present a professional report — 10 minutes with five-minute Q&A. 

 
Since the program's launch in 2019, Children's Minnesota has hired 11 nurses from the Student Summer Nurse Intern program. Plans are underway for the program to continue in 2022 with 18 positions available.   
Hamdi Ahmed, St. Catherine University

Josh Anderson, University of Northwestern St. Paul

Precious Echenwunne, University of Minnesota-Twin Cities

Corinne-Talua Koffi, Minnesota State University-Mankato

Ava Medrano, Bethel University 

 

Lucy Moe, St. Olaf College

Andrea Overmoyer-Soto, University of Minnesota-Twin Cities 

Marcy Rede, St. Catherine University

Amanda Smith, Illinois Wesleyan University

 

Nicole Tanski, University of Minnesota-Twin Cities

Kayla Walsh, Minnesota State University-Mankato

Bernerdette Zore, Saint Cloud State University School of Nursing

 
Candidates to become preceptors for the Student Summer Nurse Internship program have completed the preceptor course, have at least one year of experience and commit to precepting a student nurse intern for 10 weeks over the summer. Interested nurses apply for teaching opportunities on the Children's Minnesota website.  
5th Floor St. Paul
Rosa Ruiz Mendez, BSN, RN 

Kallie Ritchie, BSN, RN

 
7th Floor Minneapolis
Erin Fakler, BSN, RN, CPN 

Anna Nelson, BSN, RN
Anthony Brown, BSN, RN, CPN

 
Cardiovascular ICU Minneapolis
Samantha Katz, BSN, RN

 

Tori Kotz, BSN, RN
Ashley Nelson, BSN, RN
Grace Schroeder, RN

 

Savannah Morris (Knoop), BSN, RN

 

Alex Khoury, BSN, RN

 

Wendy Martin, RN

 

Hannah Backer, BSN, RN 
Emergency Department St. Paul
Cara Nelson, BSN, RN

 

Caitlyn Mallory, RN

 

Joe Schwartz, ADN, RN

 

Ashley Vandervelde, RN

 
Float Team Minneapolis
Kati Urich, BSN, RN.

 

Emily Petermeier, BSN, RN, RNC-LRN, CLC

 

Jessi Krutsch, BSN, RN, CLC
Infant Care Center Minneapolis
Shannon Grovum , BSN, RN, CLC

 

Sarah Bruneau, BSN, RN

 

Kori Groshek

 
NICU Minneapolis
Stacey Wenner, BSN, RN, CCRN, RNC-NIC

 

Laura Wagener, RN

 
NICU Minneapolis & St. Paul
Amy Jaderholm , BSN, RN, CBC

 

Marjorie Branum, BSN, RN

 
PICU Minneapolis
Austin Rondou , MSN, RN, CNL, CCRN

 

Kristen Jacobsen, RN

 

Brittany Cords, RN

 

Taylor Zerr, MSN, RN

 

Rachel Halbur, BSN, RN

 
Special Care Nursery Minneapolis
Eden Habte

 

Carolina Escalante, BSN, RN, CBC

 

Lisa Hatle, BSN, RN, CBC

 
Hair care for all patients
Children's Minnesota now offers inclusive hair care products that are appropriate for all of our patients. Our goal was to address a lack of proper hair care products and a need for staff education about maintaining hair of different textures.   
Children's Minnesota nurses listen to patients' needs 
In July 2020, Paul Paulisich, MSN, RN, NE-BC, patient care manager in the cardiovascular intensive care unit (CVICU), shared comments from a parent whose child was cared for on the unit. The parent shared concerns with Paulisich about the hair care products available to their child during their stay and explained the differences between hair care experienced by Caucasian patients and African-American patients. Paulisich relayed this feedback to Heidi Shafland, MSN, APRN, ACCNS-P, CCRN-K, clinical nurse specialist, who began exploring the extent of the issue and how it could be resolved.   
Shafland formed a small group, including Courtney Kenefick, BSN, RN, RN-C, clinical nurse, 5th floor St. Paul, and Hani Mohammod, BSN, RN, CCRN, clinical nurse, CVICU. The group identified the issue as multi-factorial; there was a lack of knowledge about correctly performing hair care for children with different textured hair and there was a lack of products provided by Children's Minnesota to adequately care for the hair of the African-American patient population.   
The small group reached out to the equity and inclusion (E&I) team, including Ruti Doto, equity and inclusion advisor; Adriene Thornton, MSN, RN, IP-C, infection prevention nurse; and James Burroughs, senior vice president of government and community relations, chief equity and inclusion officer, to understand the extent of the issue and build support for potential interventions. Through discussions with managers throughout the hospital, it became clear that the issue existed in all units and there was overwhelming support for the project plan.    
New hair care products welcomed by nurses, patients and families 
Hair care products from minority-owned businesses were vetted by the team and brought in on a trial basis. All products were hypoallergenic, fragrance-free and compatible with antimicrobial wipes used hospital-wide. Then, with the help of the Family Advisory Council, education and training materials were developed about caring for hair of all textures, performing hair maintenance for all children and using the new products properly. The education was distributed to all bedside staff.   
While it wasn't required, project leaders noted a high completion rate, leading them to believe staff embraced this education. Learners took a pre- and post-training survey to assess knowledge of hair maintenance expectations and comfort performing hair maintenance on all children. Post-training survey results demonstrated a statistically significant improvement in knowledge and comfort in performing hair care on all patients.   
New hair care products are a success! 
Anecdotally, all units, patients and families in our trial group were enthusiastic about the new products. Families were very pleased with how the new products worked and how good their child's hair looked. We have seen a significant uptick in requests from all units for these products compared to those previously available.   
Steve Allen, BS, Manager of Supply Chain Analytics and Inventory, Supply Chain  

 

Tessa Bilman, BS, Patient/Family Centered Care Coordinator, Child Life

Ruti Doto, BA, Equity and Inclusion Advisor, Equity and Inclusion 

Deanna Johnson, MSN, APRN, CRNP, WOC-N, Wound Ostomy Advanced Practice Registered Nurse, Wound Ostomy Team  

Courtney Kenefick, BSN, RN, RN-C, Clinical Nurse and Doctoral Student, 5th Floor St. Paul

 

Heidi Shafland, MSN, APRN, ACCNS-P, CCRN-K, Clinical Nurse Specialist, Cardiovascular ICU

 

 

Adriene Thornton, MSN, RN, IPC, Infection Prevention Nurse, Infection Prevention 

 

 

 

  

 
A new approach for clinical support associate

(CSA)

orientation
Launched in February 2021, the clinical support associate orientation series is a new standardized orientation curriculum to prepare CSAs for their role of assisting patient care. Before the series launch, CSAs were oriented individually in their home units, requiring duplicative and, at times, inconsistent content delivery.  
Improved training and retention 
Due to the significant CSA hiring volumes in 2021 and a desire for a standardized onboarding approach, the opportunity was identified to create a CSA orientation series to help provide consistent, hands-on pediatric education to new CSAs hired to the organization. The orientation series allows CSAs to practice Children's Minnesota's pediatric approach, common skills on task trainers (Mankins) and delegate tasks in a low-stress environment. Through the series, CSAs also have the opportunity to collaborate and develop relationships with their colleagues and CSA clinical educators who continue to support them for the first six weeks after hire.  
The project curriculum 
Mariah Carano, BSN, RN, CPN, clinical educator, float team Minneapolis; Vicky Keintz, BSN, RNC-LRN, clinical educator, float team St. Paul; and Janelle Koscinski, BA, CHES®, allied health education specialist and patient family education specialist, partnered to develop the standardized curriculum. The new series, taught by CSA clinical educators from each campus, provides hands-on practice in a simulated environment, a campus and unit orientation as well as an overview of organizational systems and processes.  
Six weeks after they complete the initial orientation series, CSAs take a role development course that offers the opportunity to debrief in a safe space, practice delegation scenarios, learn more about autism spectrum disorder, practice advocating for patient safety and get a refresh on how to stay safe when monitoring patients experiencing a mental or behavioral health crisis.  
The impact of the CSA orientation series 
In 2021, 131 CSAs completed the orientation series. Course attendees have expressed appreciation for the opportunity to learn together and cited decreased anxiety and increased comfort in their role. Additionally, clinical educators noted CSAs are more confident and prepared to jump into patient care because of their experiences in a simulated classroom space. Preliminary data indicates decreased CSA turnover since the launch of the series.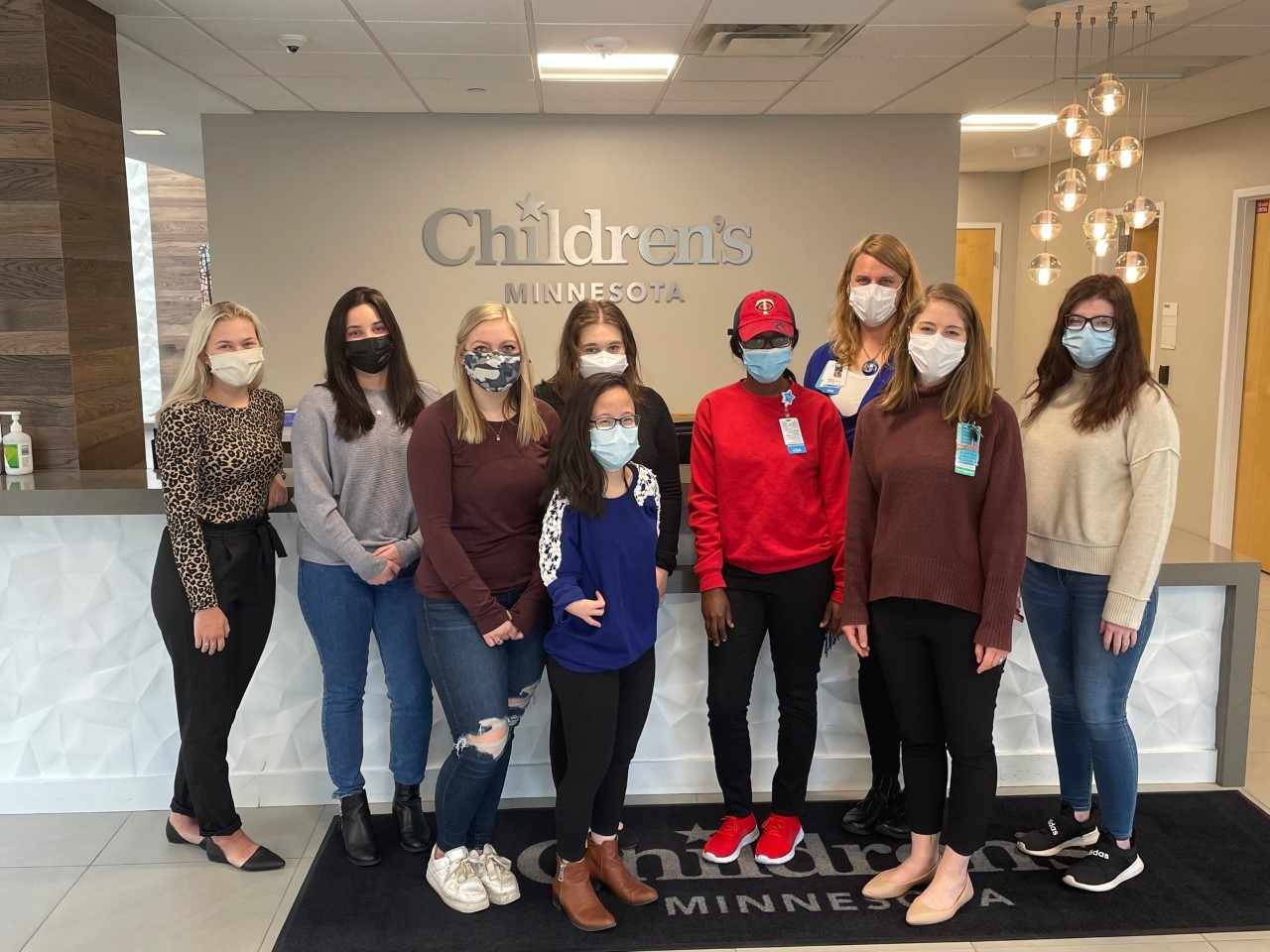 This series has highlighted the skills I will need to have by the end of the orientation, which is very useful to know before I start with a preceptor. I feel much more confident. Thank you for implementing this program!"  – CSA Series participant
Caregiver simulations decrease anxiety for medically complex children going home
The Caregiver Simulation Program is a grant-funded program supported since 2020 by the Children's Hospital Association (CHA). It offers hands-on practice for families preparing to go home from the hospital with their child who has complex medical needs. The Caregiver Simulation Program currently supports families from the Cardiovascular Care Center (CVCC). In partnership with the respiratory therapy department, the program will expand in 2022 to include all families going home from the hospital with a new tracheostomy and ventilator.   
Identifying the gap 
A need for this project was identified by the health care team in the CVCC and families on the Cardiovascular Experience Team, a group of current and former families who received care in the CVCC and now work to improve the experience for families on the unit. Both groups recognized a gap in family comfort with home monitoring skills and a general anxiety about home caregiving.   
The Caregiver Simulation Program provides a safe and realistic environment to practice complex care before being discharged. Simulation allows caregivers to learn by doing, reflect on what didn't work and try it again. The simulation is used to meet a family's individual goals, improve care and increase confidence in providing those skills. The program includes home monitoring and caregiving activities, including weighing the patient, providing medications, feeding and feeding devices, caring for surgical incisions and determining when to call the provider.  
The health care team in the CVCC provides a referral to the Caregiver Simulation Program. The course occurs after the family has had the opportunity to receive bedside education, but before the rooming-in process, where the family cares for the child with minimal intervention from staff unless needed. The simulation course is 60-90 minutes and allows the caregivers to integrate their learning into a home-like environment.  
Since launching the Caregiver Simulation Program, additional educational needs have been addressed based on requests from caregivers participating in the program. In 2021, the team created video resources for home monitoring. New videos are being added to the journey application for families to access on demand.   
Program outcome and results
Since it began in October 2020, the program has engaged 65 caregivers who represent 34 children. Caregiver anxiety decreased by 22%, measured by the Spielberger State-Trait Anxiety Inventory (STAI) short form. Following the simulation program, caregivers reported an increase in readiness to go home. Advanced practice registered nurses also noted caregivers who completed simulation education had fewer questions after discharge from the hospital, expressed a higher level of confidence in their abilities to care for their infant at home and had no nursing-reported concerns while rooming before discharge.    
In April 2022, the research team will present study results to the Society for Pediatric Nursing.
Clinical nurses and advanced practice nurses were involved in developing and implementing the Caregiver Simulation Program. The team continues to refine the program based on caregiver feedback.   
The team included: 
Jocelyn Berbee, MS, APRN, CPNP, PHN, Nurse Practitioner, Cardiovascular Care Center 

 

Brittany Dahlen, MSN, RN, NPD-BC, CPN, Clinical Education Specialist, Simulation and Center for Professional Development and Practice

 

Jessica Hannan, BSN, RN, Clinical Nurse and Caregiver Simulation Instructor, Cardiovascular Care Center 

 

Jamie Heil, BSN, RN, CCRN, CBC, Clinical Nurse and Caregiver Simulation Instructor, Cardiovascular Care Center 

 

Janelle Koscinski, BA, CHES, Allied Health Education Specialist and Patient Family Education Specialist, Center for Professional Development and Practice 

 

Paul Paulisich, MSN, RN, NE-BC, Patient Care Manager, Cardiovascular Care Center 

 

Heidi Shafland, MSN, APRN, ACCNS-P, CCRN-K, Clinical Nurse Specialist, Cardiovascular Care Center 

 

Sarah Young, BSN, RN, Clinical Nurse and Caregiver Simulation Instructor, Cardiovascular Care Center