Strawberry-Banana Smoothie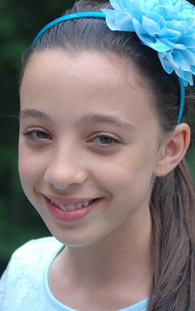 Note: This recipe, created by Olivia Beauchesne of New Hampshire, won a national contest and was served at a White House lunch for kids. What a refreshing smoothie! (If you try this recipe, get a grownup's help because it requires using the blender.)
Prep time: 10 minutes
What you need:
1 frozen banana
1 cup whole strawberries, stems removed
¾ cup low-fat vanilla yogurt
½ cup freshly squeezed orange juice

Equipment and supplies:
What to do:
In a blender, combine the banana, strawberries, yogurt, and orange juice.
Blend until smooth.
How much does this recipe make?
Note: All information is for educational purposes only. For specific medical advice, diagnoses, and treatment, consult your doctor.
© 1995-2022 KidsHealth ® All rights reserved. Images provided by iStock, Getty Images, Corbis, Veer, Science Photo Library, Science Source Images, Shutterstock, and Clipart.com