Makenna's Bodacious Banana Muffins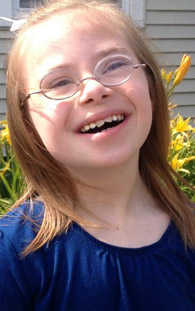 Note: This recipe, created by Makenna Hurd of Tennessee, won a national contest and was served at a White House lunch for kids. Makenna and her mom sell her famous muffins to raise money for research and programs to help those with Down syndrome. (If you try this recipe, get a grownup's help because it requires using the oven.)

Prep time: 50 minutes
What you need:
3 ripe bananas, mashed
2 large eggs
¾ cup packed brown sugar
¾ cup unsweetened applesauce
¼ cup vegetable oil
1 teaspoon pure vanilla extract
2 cups whole-wheat flour
1 teaspoon baking soda
1 tablespoon ground cinnamon, plus more for pans
Cooking spray or paper muffin liners
Equipment and supplies:
Measuring cups and spoons
Large bowl
Medium bowl
Whisk
Muffin pans
Oven
What to do:
Preheat the oven to 350°F (176°C).
Spray a 12-cup muffin pan with cooking spray or line with paper muffin liners.
Sprinkle a little cinnamon in the bottom of each cup.
In a large bowl, beat together the bananas, eggs, brown sugar, applesauce, oil, and vanilla.
In a medium bowl, whisk together the flour, baking soda, and cinnamon.
Add the flour mixture to the banana mixture. Stir until mixed, but don't overmix.
Spoon the batter into the prepared muffin tray.
Bake about 30 minutes, until the tops of the muffins spring back when pressed lightly. Let cool and enjoy!
How much does this recipe make?
Note: All information is for educational purposes only. For specific medical advice, diagnoses, and treatment, consult your doctor.
© 1995-2022 KidsHealth ® All rights reserved. Images provided by iStock, Getty Images, Corbis, Veer, Science Photo Library, Science Source Images, Shutterstock, and Clipart.com