Health Professional News, Mighty Blog
Work Here Wednesday: Pharmacy technicians
What does a pharmacy technician do?
Pharmacy technicians are a crucial part of our pharmacy team. In this role, you will work alongside registered pharmacists while taking responsibility for a wide variety of essential tasks within the pharmacy department:
Intravenous product preparation.
Unit dose cartfill.
Inventory management.
Automated and decentralized medication stocking (Pyxis).
Outpatient prescriptions.
We train each pharmacy technician for each of the above tasks, even if you have experience at a different pharmacy. Because of this process, the amount of time you will spend on any of the above tasks will vary based on your training.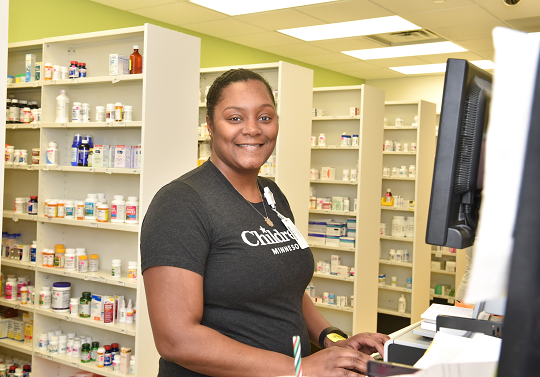 Qualifications
High school degree or equivalent.
Active technician registration with the Minnesota Board of Pharmacy. If you registered after 2013, you must also be a graduate of a pharmacy technician training program or complete 240 hours of onsite training.
Certified as a pharmacy technician (CPhT) or become certified within one year of your hire date.
Previous experience as a pharmacy technician is preferred.
Join our team as a pharmacy technician
Children's Minnesota is looking to fill three pharmacy technician roles in the pharmacy at our Minneapolis hospital:
Does this position sound like a good fit for you? Apply today.
The Children's Minnesota pharmacy department
The pharmacy department at Children's Minnesota is staffed by registered pharmacists and certified pharmacy technicians with specialized training in pediatric pharmacy.
We are committed to training the next generation of pediatric pharmacy professionals through mentoring of pharmacy students and post-doctoral training in our robust residency program, which includes post-graduate year one (PGY1) and two (PGY2) residencies in pediatrics and pharmacogenomics. We value teamwork, open communication, safety and respect. We embrace an environment that encourages learning and professional growth. Our team is committed to providing excellent care to our patients and families.
About Children's Minnesota
Children's Minnesota is the seventh largest pediatric health system in the United States and the only health system in Minnesota to provide care exclusively to children, from before birth through young adulthood. We serve kids throughout the Upper Midwest at two free-standing hospitals, 12 primary and specialty care clinics and six rehabilitation sites. Children's maintains its longstanding commitment to the community to improve children's health by providing high-quality, family-centered pediatric services and advancing those efforts through research and education.
Become part of something amazing
We are always searching for new talent to add to our team. No matter what expertise you have, we have a position for you. View all of our current openings and apply today.
Kaitlyn Kamleiter