Will our kids struggle to socialize after COVID-19?
It has been over a year since the first case of COVID-19 was detected in Minnesota and our lockdown last March. This has changed the way kids and teenagers have grown up. They have spent more time at home with only close family, they haven't been able to hang out with friends and haven't been in crowded areas in a long time.
Many parents have started to wonder: will my kids still be able to socialize like they used to before COVID-19? We talked with Dr. Pamela Niksich, medical director of Children's Minnesota, West St. Paul clinic, and Baylee Zittlow, nurse practitioner in the Adolescent Health Clinic at Children's Minnesota, Minneapolis, about this common concern amongst parents.
Socializing again after COVID-19
Children's socialization after COVID-19
Many young children have been home with parents or other close family members during the COVID-19 pandemic, which means they've been taking a break from daycare or school. According to Dr. Niksich, "Your child's individual personality will affect how they react to this change."
Tips for parents:
Try to spend time 1:1 with your child daily, and talk about how they are feeling.
Let them know that this is temporary.
Find other ways to connect with family and friends virtually or at a safe distance.
Teenagers socialization after COVID-19
Teenage years can be hard to begin with, and the COVID-19 pandemic has only made it harder. Many teens have missed out on some of the biggest or most monumental moments of their young lives – think: prom, sporting events, senior-year activities, college transitions and so much more.
"Not to mention, teenagers have been missing out on just normal everyday socializing that is so important for social development in the teenage years," said Baylee. "Feelings of anxiety, disappointment, isolation and even anger are expected and should be normalized."
Remember, sometimes, the only way out of painful feelings is through them!
"If you can help your teen schedule a socially distanced and safe get-together, this can make a difference – think of a picnic, hammocking, a bike ride, or a socially-distanced walk," said Dr. Niksich. "Seeing one friend at a time is usually going to be safer than meeting in groups."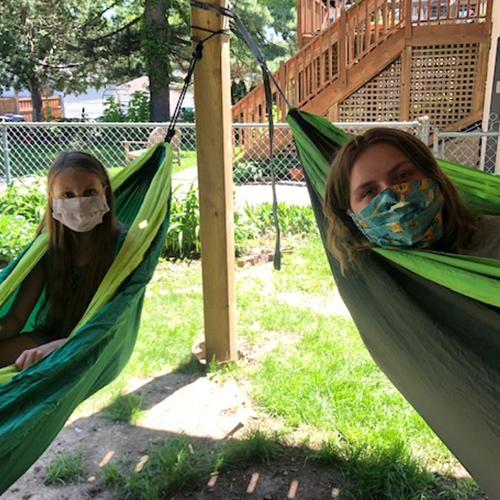 Coping recommendations for teenagers
It's important teens find ways to cope through this time in their lives. "I recommend teens try to cope by socializing (at a safe distance), exercising or expressing oneself through art, hobbies or music," said Baylee.
As long as you as a parent are comfortable, Baylee encourages socialization with a few friends as long as they are taking proper COVID-19 precautions. The time together, in person, with their friends can make a huge difference.
Tips for parents talking with their children about socializing again
Always check in
It's important to make an effort to be available to your kids. Make sure you give them opportunities to be open and honest with you about how they are feeling. This will help you learn more about their day-to-day lives and if you need to be concerned about any of their feelings and ask for help.
Acknowledge their feelings
As a parent, make sure you acknowledge your teen's feelings and let them know, their feelings of disappointment or anxiety are normal and expected. But, if you notice these feelings are impacting relationships or school performance, it might be time to seek out additional resources and provide them with someone else to talk with about their feelings and situations.
Provide them with an outlet
Not all kids want to only talk to their parents about their problems. If you feel like your child wants or needs to talk to someone else, Children's Minnesota is here to help. Our Behavioral Health Services help children navigate obstacles encountered along life's way and offer services for common childhood behavioral problems and mental health concerns.
Another great resource for teens is the Crisis Text Line. This is a free, 24/7 service line where a live, trained Crisis Counselor receives the text and responds to your child.
Encourage activities
The weather is warming up here in the Midwest! Encourage your kids to go outside, enjoy some sunshine, and stay active! All these things can help their mood improve.
Alexandra Rothstein