This blog was written for the 2019-2020 flu season. For the most up-to-date information, read our newest blog post for the 2020-2021 flu season:
Why should my family get flu shots?
The who, what, when, where and why parents need to know
Between school, sports and activities, homework, and more, fall is a busy time for families. Although there's a lot on parents' minds, influenza vaccinations, or flu shots, should be top of mind this time of year.
Patsy Stinchfield, APRN, CNP, senior director of infection prevention at Children's Minnesota, explains the who, what, when where and why of flu shots.
The flu shot is safe and effective. Although the vaccine is not 100% effective at preventing symptoms of the flu, it can limit the severity and duration of the infection. It may even reduce the chances your child will need to be hospitalized due to the virus.
While often confused with the common cold, flu symptoms are usually more severe than the typical sneezing and stuffiness of a cold. Symptoms, which usually begin about two days after exposure to the virus, can include:
Fever
Chills
Headache
Muscle aches
Dizziness
Loss of appetite
Nausea
Vomiting
Tiredness
Weakness
Ear pain
Diarrhea
Cough
Sore throat
Runny nose
As a general rule, everyone older than six months old should get a flu shot each year. Because flu viruses change constantly, experts update the vaccine to be effective against current strains.
Vaccinations don't just keep individuals safe, they protect everyone you come in contact with, including those who cannot be vaccinated! People with severe, life-threatening allergies to the flu vaccine or any ingredient in the vaccine also cannot get a flu shot. There's a misconception that women should not get a flu shot if they are pregnant, but it is safe and recommended by the Centers for Disease Control and Prevention (CDC). Not only will the flu shot protect the pregnant women, but can also provide influenza protection to their newborn until they are old enough to get the vaccination.
Children under age 9 who are receiving their first flu vaccine will need two doses four weeks apart. You and your children should get the vaccine early so you can be fully protected when the virus starts spreading. Because the virus is constantly changing, medical professionals cannot predict when the season will start. But remember: it's never too late! If you or your children have not yet received a flu shot, make an appointment to do so as soon as possible. It will protect you and everyone around you.
Please note: FluMist is not available at Children's this year.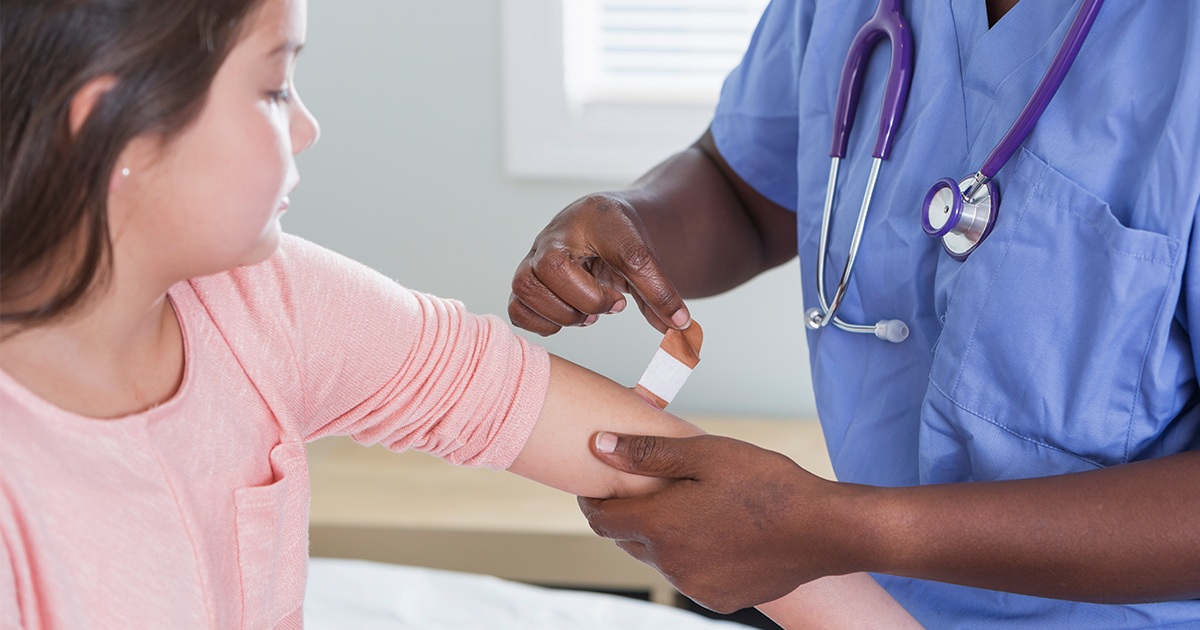 Why do you need a flu vaccine?
No parent wants their kids to experience the fever, cough, sore throat, congestion and aches associated with the flu. The vaccine prevents millions of illnesses and flu-related clinic visits each year. Especially in children, the vaccine can significantly reduce the risk of influenza related death, according to a CDC study.
Children can, and do, die from influenza, and we unfortunately do see this at Children's. Yearly, Children's admits many kids to the hospital due to the flu. Regardless of prior health, 90% of kids requiring intensive care have one thing in common: they didn't get their flu vaccine.
Kaitlyn Kamleiter