Tips to keep your kids safe while sledding
In Minnesota, we don't let the snow or the cold keep us from being active. Despite the chill, there's a lot to love about Minnesota winters. But outdoor activities that kids love, like sledding, can sometimes be dangerous.
Due to the nature of this fun winter activity, there is a possibility your child could get hurt. As they go down slippery, icy hills at a fast pace, there is a chance they could fall and injure themselves.
Falls from sledding can sometimes be gentle and your child can get back up and head down the hill one more time. But there are times when these falls can be more serious, like a fall involving a head injury. These injuries can be dangerous and sometimes even deadly. Injuries like these send thousands of kids and teens to the emergency room annually. Collisions with objects or other people can also cause serious injuries.
We want kids to enjoy the winter wonderland we call home, so we're sharing some tips for parents to keep their kids safe while sledding.
Because sledding  involves a lot of time outdoors, make sure your kids wear warm, waterproof clothing to reduce any risk of frostbite or hypothermia. Children should dress in full winter gear: hats, gloves or mittens, snow pants, winter jacket, and snow boots. But be careful with loose clothing items like scarves, because they can get caught in sleds and other winter sports gear and pose a strangulation risk.
Make sure your kids, especially those under age 12, wear helmets. Helmets designed for winter sports are ideal, but if you don't have one, a bike helmet works well too.
Sleds like tubes, saucers, toboggans, and sled-substitutes like lunch trays or cardboard boxes are not safe for sledding because children cannot steer or slow down when needed.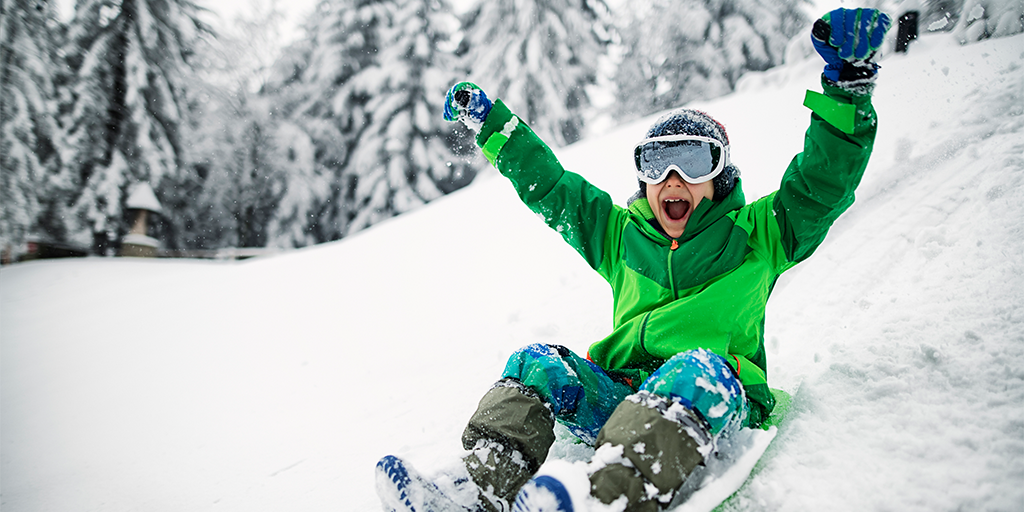 How to pick the right hill
It can sometimes be hard to tell if a hill is safe for sledding when it's covered in snow. So first, make sure the conditions are right. If there has been a recent thaw and re-freeze, it may not be the best day to go sledding. Not only does ice pose a slipping hazard, it can also make for hard landings if kids fall off of their sled.
But on a nice snowy day, you should look for a hill that isn't too steep and has a long flat area at the bottom so kids can safely glide to a stop. Make sure the hill doesn't end near a street, parking lot, pond, wooded area, fence or any hazardous area. Before your children start sledding, check to ensure that the hill is free of obstacles like jumps, bumps, rocks, poles or trees.
Here are a few extra tips to make sure you kids have a fun and safe time sledding:
Children should be closely supervised at all times while sledding.
Kids should sled one person at a time.
Kids should always face forward and go down the hill feet first.
Although jumps and obstacles can seem fun, they can make a sled behave unpredictably. Avoid jumping or excessive steering.
Remind kids to keep their arms and legs within the sled at all times. If they do fall off the sled, tell them to move out of the way. Additionally, you should teach them how to roll off of a sled if it won't stop.
Kids should walk up the side of the hill and leave the middle of the hill open for sledding.
In the event that someone does get injured, an adult should be near by to administer first aid and bring the sledder to the emergency room if necessary. Always call 9-1-1 in case of emergency, especially for neck and head injuries.
We love treating kids here at Children's Minnesota, but we'd rather see them safe at home. Use these tips to keep your children safe this sledding season and have some fun!
Kaitlyn Kamleiter