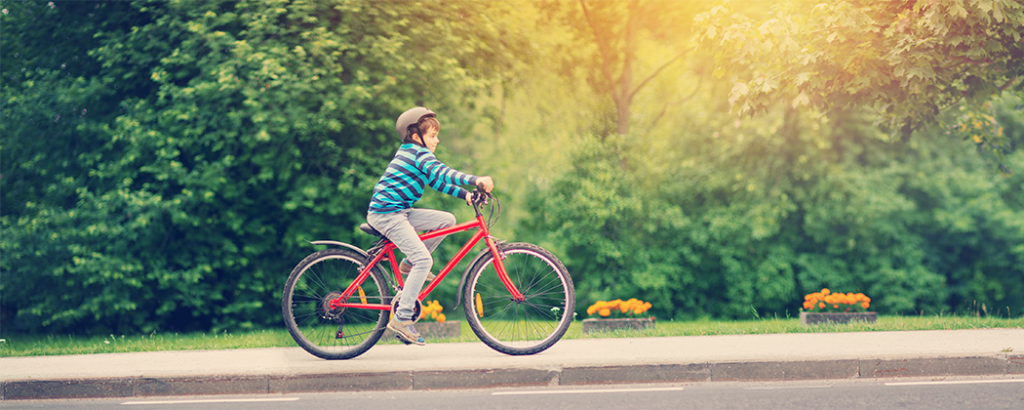 How to choose safe bike gear for kids
Bike riding is a great way for kids and their families to spend time together while being active in the fresh air. But before you set out on a family bike ride, there are some tips you should follow to ensure your kids stay safe on the road.
How do I know what bike to buy?
Focus on their age
When picking out a bike, focus on your child's age and maturity level. Each child is different. There's no magic age at which kids should graduate from a tricycle to a "big-kid bike." Generally, 6-year-olds have the motor skills needed for a two-wheeled bike with training wheels. Training wheels can be adjusted or removed as kids get more comfortable and their riding skills improve.
Buy the right size
Kids grow fast, but you should not buy a bike that kids can grow into. Kids should be able to sit on the bike seat with their feet flat on the ground, and the handlebars should not go higher than their shoulders. A salesperson at a bike store can help you make sure the bike is the right size.
Brakes
When kids are just starting to ride bikes, they should have foot brakes instead of hand brakes. As kids get older, they should have a bike with both foot and hand brakes so that they can get used to how the hand brakes work. This way, kids will be comfortable using the hand brakes before they transition to larger bikes that only have hand brakes.
Reflectors and Lights
All bikes should have reflectors – white in the front and red in the back. This is so other people on the roads and paths can tell which way the bike is going if it's dark. If your kid has to bike in the dark, make sure they have working lights on the front and back of their bikes. Even if your child's bike doesn't come with them, you can buy inexpensive lights to add on for extra safety.
Tips for picking the best helmet
All parents know how important helmets are when riding bikes. Did you know? Many bike accidents involve a head injury, and a crash can mean a serious injury if you are not wearing a helmet. Every year, nearly half a million kids are seriously injured in a bike accident, and most of these injuries could have been avoided if the child was wearing a correctly fitting helmet.
Here are tips you should follow to ensure kids' heads stay safe while riding bikes:
Make sure the helmet meets standards set by trusted safety groups like the Consumer Product Safety Commission (CPSC) or Snell. Check inside the helmet for one of these organization's stickers to verify that it meets quality and safety standards.
Helmets should be adjustable to ensure they fit your child perfectly. Bike stores will be happy to help you adjust the helmet to fit your child.
Follow the three step rule: Eyes, ears, mouth.

Eyes: The helmet should sit level on the child's head, about an inch above their eyebrows. A helmet can't protect what it doesn't cover.
Ears: The helmet straps should form a "v" that comes to a point right under the child's ears. Sometimes helmets have a plastic adjuster that can move where the straps come together.
Mouth: Buckle the helmet – think of it like the "on/off switch" for your helmet. The straps should be loose enough that your child can open his/her mouth comfortably, but snug enough that they strap won't slip over the child's chin.
Kids should always fasten the straps or buckle on their helmet, and should never wear a hat underneath.
Replace helmets if your child hits any surface hard while wearing it. Helmets lose their ability to absorb shock after taking a serious hit.
Remember that your child looks to you to set an example. There's no such thing as being too old to wear a helmet. Make sure to wear yours at all times, too.
How should kids dress for a bike ride?
Clothing should be bright and visible
Dress kids in fluorescent or bright-colored clothing when they are biking. This will help drivers and other cyclists see them better on the road. Be sure to avoid dark clothing any time they bike, but this is especially important during evening or night-time hours. To give kids extra visibility, you can add reflective tape to their clothing, bike or helmet.
Clothing should fit properly
Pant legs should not be too loose or flared, which can get caught in the chain while riding. Lightweight clothing is a good choice to help prevent kids from overheating on warm days.
Footwear is also important to think about. Kids should wear tennis shoes when riding to help them grip the bike's pedals. If they struggle to keep their shoes tied, Velcro or slip-on tennis shoes are great options. Shoes like cleats, shoes with heels and flip flops can all create problems while riding a bike. Kids should never ride barefoot!
If kids want to bike to school, make sure their backpacks and any loose or dangling straps are tied up so that they do not get tangled in the spokes of the wheels. Try to keep backpacks as light as possible.
All parents want is for their kids to be safe. Following these tips can help you make sure your kids will stay safe when they go out for a bike ride.
Emergency and trauma care at Children's Minnesota
At Children's Minnesota, we love kids. But would rather they be safe at home than in our emergency room.
Between our two emergency rooms in Minneapolis and St. Paul, we care for more than 90,000 patients a year. But more than taking the best care of children during emergency visits or after trauma, our program is backed by our comprehensive network of pediatric clinics and specialties. Meaning when kids leave our emergency room, we can continue to offer them the best rehabilitation and medical services to make sure they get and stay healthy.
Level I Pediatric Trauma Center
Children's Minnesota hospital Minneapolis is home to a Level I Pediatric Trauma Center, the highest level offered by the American College of Surgeon's (ACS) Committee on Trauma. Since 2013, we have been the region's only Level I Trauma Center dedicated exclusively to kids.
Kaitlyn Kamleiter