Newborn Ellie overcomes rare intestinal condition with help from Children's Minnesota's NICU team
Exciting New Year's news
Karissa and Matt Wiklund will never forget the moment they learned they were expecting their first child, Ellie, around New Year's Day 2021.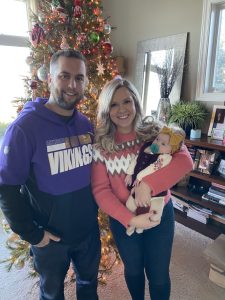 "We had been trying for a while, we were really excited and looking forward to it – I was super pumped when I found out it was a girl – we were ready," Karissa said while beaming from that happy memory.
As 2021 progressed, so did Karissa's pregnancy.
"I had a really healthy pregnancy. I had kind of a few things – heart burn and a hot summer – other than that, I had a straight forward pregnancy," Karissa recalled.
At 39 weeks – just one week shy of a full-term pregnancy – Karissa and her husband were ready to meet their daughter. The new mom's packed hospital bag was already in the car when she drove to her routine doctor's appointment near their home in Duluth, Minnesota. There, Karissa learned she had preeclampsia – a condition in which a pregnant woman develops high blood pressure – so she went to the Birthing Center at St. Luke's Hospital in Duluth to be induced. Two days later – just after midnight on Sept. 11, 2021 – Ellie entered the world.
"We were ready, full-term, we'd been healthy," Karissa said. "Nothing in the world occurred to me that something that was not perfect would happen."
A red flag
Baby Ellie was only about 1-day old when both her mom and Dr. Noelle Westrum, pediatrician at St. Luke's Pediatric Associates in Duluth, quickly noticed something wasn't right.
"She was an adorable and healthy newborn," Dr. Westrum said. "However, within a few hours it became apparent that something was wrong as she repeatedly spit-up and eventually started to vomit bile, which is a red flag for intestinal obstruction in infants. Further evaluation confirmed my suspicion."
Ellie's x-rays were concerning for a rare condition called duodenal atresia. Part of her small bowel did not properly develop, so there was no opening for stomach contents to pass through. Instead, Ellie was throwing it all up. The National Organization of Rare Disorders (NORD) says duodenal atresia occurs in up to approximately one of every 40,000 live births.
"This was the last thing we expected – ever," Karissa said.
A seamless transfer to the Children's Minnesota NICU
Dr. Westrum contacted the Children's Minnesota neonatal intensive care unit (NICU) in Minneapolis to rush the newborn from Duluth to the Twin Cities.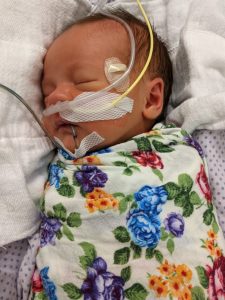 "I have worked with Children's Minnesota many times in my 25-year career, and their help and support in caring for patients is exceptional," said Dr. Westrum. "Their transport team takes over all the logistics so that I can focus on caring for my patient and their family. I was able to reassure Karissa and Matt that Ellie would have the best of care at Children's Minnesota, and indeed she did."
"To me it was absolutely seamless. All I know is they scheduled it, a helicopter came and picked Ellie up," Karissa recalled. "All the sudden she was there and the Children's Minnesota care team knew what she needed, we didn't have to do anything but be there."
Ellie arrives at the Children's Minnesota NICU
At just 1-day old and weighing 7 pounds, 11 ounces – Ellie was flown to the NICU at Children's Minnesota's Minneapolis campus inside a special incubator.
"It was so hard, I literally had just given birth and she's being taken away by a helicopter," Karissa said.
On her second day on earth, baby Ellie underwent surgery at Children's Minnesota's Level I Pediatric Surgery Center. Ellie's surgical team – led by Dr. Nathaniel Kreykes, pediatric surgeon at Children's Minnesota – successfully removed what's called a duodenal web in her small intestine. The newborn could now get the nutrition she needed and also stop spitting-up. Ellie spent 21 days recovering in the NICU and Infant Care Center (ICC) at Children's Minnesota while Dr. Tom George, system medical director of neonatology at Children's Minnesota, and the entire neonatology team closely cared for her. This team-based collaborative care model includes the patient's family, nurses, neonatal and pediatric nurse practitioners, respiratory therapists, pharmacists, dieticians, lactation consultants, social workers and other neonatal experts.
"Dr. George is like the best human being we've ever met in our lives, I think he made a gigantic difference in helping Ellie while also helping me," Karissa said.
"Ellie's story is a testament to all of the resilient babies in our neonatal units across our program," said Dr. George. "As the kid experts, Children's Minnesota's neonatology program is the largest in the state and one of the largest in the region; we care for about 3,000 babies every year. Our expert neonatal transport team also transports about 500 babies like Ellie a year. This gives us the rare ability to treat babies with the most complex conditions like Ellie to help improve outcomes among our most vulnerable patients."
A sudden scare
Ellie was only a few days old and recovering in the NICU from her surgery when she gave her parents a scare. Karissa recalled how her newborn daughter started turning purple while napping and receiving a common narcotic to help manage the pain from her procedure.
"She stopped breathing because she got too comfortable and forgot to breathe. With a blink of an eye – Dr. George, her care team and others arrived so unbelievably fast and they put her on oxygen. I was super, super worried and Dr. George told me every day that he was 100% confident that this would not affect her long term."
"She's doing so, so good"
Three weeks after arriving by helicopter, little Ellie graduated from Children's Minnesota. She turned 6 months old at home in Duluth on March 11, 2022 – fully recovered and all smiles.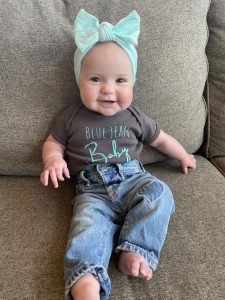 "It was an absolute whirlwind, we're good now. It's hard to believe it ever happened because she is doing so, so good," Karissa said. "I'm eternally grateful for everyone at Children's Minnesota."
The neonatology program at Children's Minnesota
The neonatology program at Children's Minnesota has the advanced treatment babies need, whether a baby is diagnosed with a condition while in the womb, or needs special care after birth. As a program that includes our Level IV NICU – the highest level designated by The American Academy of Pediatrics – it has the in-house expertise and experience to care for the most complex and critically ill newborns.
"Nobody wants to be in the NICU, we had no idea this would happen," Karissa said. "These people who show up every single day to help you and care for your baby, they make the most horribly difficult part of your life have light in it, it's hard to find the words of how much it means to us, they're incredible people."